Fast Charging Smart Batteries Outlast Lithium Ion
EPL statistics say that Americans dispose off 86,000 tons of alkaline batteries every year.
Which equals to circling the earth more than 6 times when the batteries are placed end to end.
And the argument as to how harmful a single use alkaline batteries is for the environment has continued the push for alternate battery solutions.
In light of this understanding, these Pale Blue Lithium polymer smart batteries which are a part of the Kickstarter crowdfunding campaign can be recharged more than thousand times with a unique USB charging method.
These new batteries have advantages over both single use alkaline batteries batteries and Nickel Metal Hydride rechargeable batteries.
The re-usability of a single pale blue battery is more than and one thousand equivalent alkaline batteries and the power output by these batteries is much is much more consistent than the alkaline cells.
When compared with Nickel Metal Hydride (Ni-MH) batteries the Pale Blues can be recharged twice as many times as them. 
Charging them is as easy as pinning in the micro USB port into the battery and the other end of the USB can be inserted into computer or a suitable wall outlet.
Qualcomm Snapdragon 865 Benchmarks Leaked
It seems that the benchmarks for the upcoming flagship Qualcomm Snapdragon 865 might just have been released in a geekbench listing.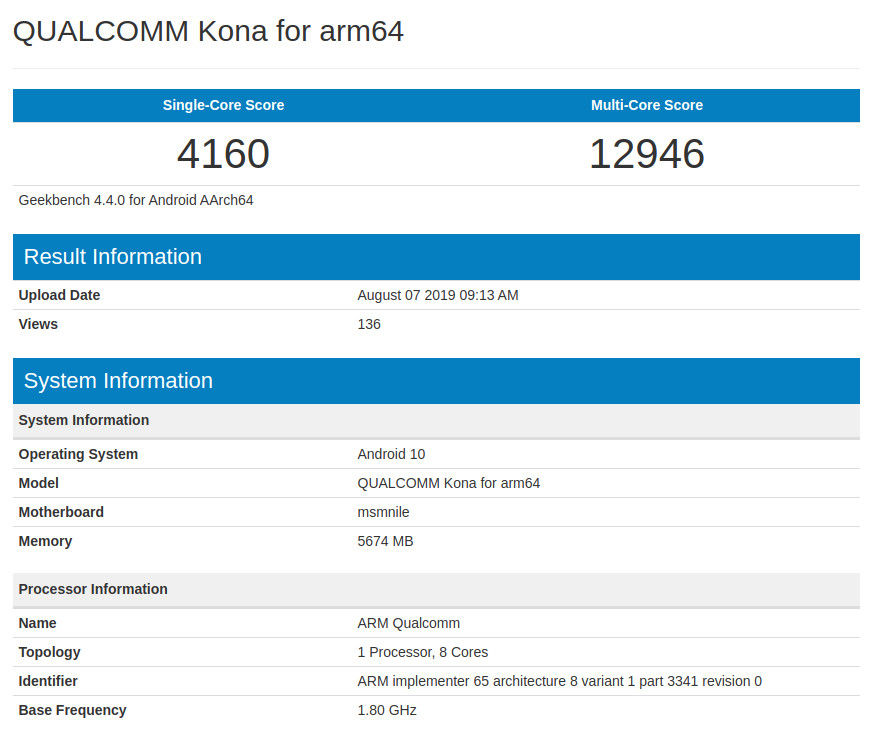 Qualcomm's next processor is to be unveiled later this year and is about to power up high-end smart phones starting early 2020.
The interesting details that are a part of the Geekbench listing are as follows.
The listing mentions a device working on Android 10 with 8GB of RAM.
The chipset is named Qualcomm Kona and has 8 cores with base frequency of 1.80 GHz.
Active support of 5G is going to be one of the most important highlights of Snapdragon 865.
Let's see what other aspects of Snapdragon 865 are we going to see prior to it's release.
I'll make it a point to share all the essential info till the point the processor gets released to keep you updated.
Sonos Is Planning To Make A Bluetooth Speaker
Audio Gear enthusiasts will be quite interested in this news.
Sonos has just filed a patent in FCC for a wireless bluetooth speaker.
The product model as reports suggest is going to be S17. 
Sonos directly suggests that this high performance wireless speaker will be part of Sonos sound system.
The device as per a report is will be used for streaming with Wi-Fi but will also feature Bluetooth audio streaming.
What is also confirmed is that this wireless bluetooth speaker will feature USB Type C and Ethernet port for seamless music and audio transmission.
The latter port is something that is found in almost all of company's existing speakers.
Let's see how Sonos holds its own in light of other wireless speakers in its range.
Your new Android Phone May Be Pre-loaded With Malware
Reports from Google security research team says that Your brand new Android phone may not be as innocent as you think.
Your fresh new Android phone maybe a recipient of dangerous Malware infused in various bloatware that the device comes coupled with, the team states.
Although there have been headlines before that some applications from Google Play Store itself actually couple some Malwares along with them but this is something which is very very new and quite dangerous it seems.
This is because some of these malware as the team suggests can download other malware from the internet and keep them running in the back end.
And the unsuspecting consumer maybe the recipient of things such as phising, ad fraud, or even device take over from remote source.
Although the team didn't enlist the brand of phones involved but disclosed that more than 200 device manufacturers tested positive for the intrusion.
AMD RADEON NAVI Custom Cards Are Coming
There were a few recent headlines that stated that AMD was slowly closing off its supply of reference design cards Radeon RX 5700-series GPUs in the market.
But latest updates from AMD suggest that reference design cards will continue to be available in the market.
AMD has confirmed that there are multiple custom designs that will be hitting the market soon with the support of its AIB partners.
But that doesn't necessarily mean that the reference cards will be taken off the market.
And as is the standard practice, AMD reference card will continue to be in the market as long as inventory lasts.
And along with that you will be seeing a variety of custom designs available for purchase in different operational capacity.
So yes although the market will soon be flooded with custom design cards.
The reference cards from AMD will continue to remain in the market till stocks last.
XIAOMI Mi A3 Soon To Be Launched In India
Recent reports suggest Xiaomi is looking to launch MI A3 in August 23.
The Android one device is supposed to run on Snapdragon 665 with 4GB of RAM.
It will have a gradient glass back and will support a 6 inch super AMOLED display with HD+ resolution.
And good news for people who want more real estate, the device's Gorilla 5 screen will feature a dot notch front camera.
The triple camera setup on MI A3 will consist of a 48 megapixel f 1.8 primary camera and 8 MP ultrawide camera and 2 MP depth sensor.
One incredible thing about MI A3 is that it will be able to record 4K video at 30fps and will feature a front camera with 32 megapixel Shooter.
The MI-A3 will most definitely feature of 3.5 mm headphone jack, phew, and a reasonable battery of of 4050 mAh.
Scientists discover the world's thinnest gold
You guys might be thinking what does that actually mean, thinnest gold ?.
Well, it is exactly what it sounds like.
Scientists have just simulated of form of gold which is just two atoms thick.
This without any doubt is the thinnest unsupported gold that is ever created.
Scientists measured the thickness of this Gold to be about 0.47 nanometres which is one million times thinner than the human finger nail.
As of now it is called 2D because it comprises of just two layers of atoms sitting on one top of another.
All atoms in these newly discovered material are surface atoms and there are no bulk atoms hidden beneath the surface.
The beauty about this material is that this material can actually find wide scale applications in medical devices and electronic industries.
Gold is one of the best conductors of electricity.
Apart from electrical and medical devices, these surface atoms of gold can also find application as catalysts in speeding up chemical processes of industrial nature.
I love it when science explores pushes its boundary of what is known, that's what science is all about.