Huawei's Harmony OS unveiled
Source : Techcrunch
The networking giant who after producing a number of conflicting reports on its new operating system finally unveiled its Harmony Operating System on Friday.
The HarmonyOS is based on micro-kernel distribution system and is aimed to power on smartphones, laptops and other smart home devices.
With Harmony OS, Huawei has taken a step to reduce its dependency on American firms.
Although the operating system won't be available for smartphones immediately, but later this year the harmony operating system will find its deployment in smart screen products such as smart TVs, smart watches and in-vehicle infotainment systems.
In the next three years, as pointed out by the CEO of Huawei consumer division, Richard Yu, the operating systems will gradually find its way into more smart devices including smartphones.
Richard also confirms that the operating system will be much more powerful and secure than Android and will have superior IPC performance.
He also pointed out, that the modular construction of this operating system allows it to be flexible enough to be incorporated into any smart devices.
What this will also lead to is seamless transmission between different devices working on the same operating system.
Now one would expect that the development of harmony OS would be a reaction to all the stuff that is happening between Huawei and US regulations.
But that is not the case as per the company the development of harmony OS started 10 years ago.
Although, the company will continue using Android for now but is sequentially planning to deploy various aspects of harmony OS into different smart devices.
If you guys are not already aware of, this event is significant because this is Huawei's reply that has happened after US government decided to put away and 60 other affiliates in an entity list where the US norms restricted from maintaining a business relationship from the giant.
AMD EPYC "Rome" 7 nm server CPUs launched
Source : arstechnica
AMD continues to give its  fans one reason after another to rejoice.
When AMD released its 7 NM Ryzen 3rd Generation Desktop processors they did it with a bang.
And it seems the bangs are not stopping.
AMD with its Ryzen 3rd Generation processor launch was able to meet and virtually beat its rival Intel across many different aspects where Intel was ahead of.
The parameters were single threaded performance, multi-threaded performance. heat efficiency and of course price.
And after the successful launch of desktop processor lineup the next question that everyone asked was whether AMD will be able to extrapolate this success towards mobile and server grade CPUs.
With the release of EPYC 7002 Rome series CPU aimed at server grade processing, it seems like AMD has answered that question quite  beautifully.
If you want to know what is this launch means you can see this as analogous to what Ryzen 3rd generation processors were to desktop, the Epic line-up means the same for server grade computing.
With this launch AMD is bringing into the table improved IPC, more cores, improved thermal efficiency when compared with its own previous generation or Intel present generation equivalents.
 PC enthusiasts are celebrating Christmas right now.
I will be creating a detailed post and video about this Epic processors on my YouTube channel so keep an eye out for that.
Now Stream PC games to Your Note 10
Source : techcrunch
With so many different things being announced by Samsung in just one hour long session it seemed difficult to keep track of all the things that were announced.
But this one announcement stood out for me and I felt this is something that you would like to know as well. And it is the Samsung's step into game streaming.
Samsung Play Galaxy Link is one feature that will now allow you to stream your games directly from your PC into Galaxy Note 10. 
The decision seems really sensible looking at the fact that Google and Apple are really getting into investing very deeply into game streaming.
From the looks of it, it seems the feature will be very similar to the one introduced by Microsoft in its Xbox division where you can stream  games from your PC into mobile devices. 
The introduction of a Samsung play Galaxy link is not surprising as something like this was expected looking at Google stadia and Apple arcade.
Samsung wants to actively make its feet wet into streaming games and it seems like Play Galaxy link is it's first big step.
Amazon Deploys Scout Robots To Deliver Shipments
Source : theverge
Amazon will now be using scout robots to deliver your packages.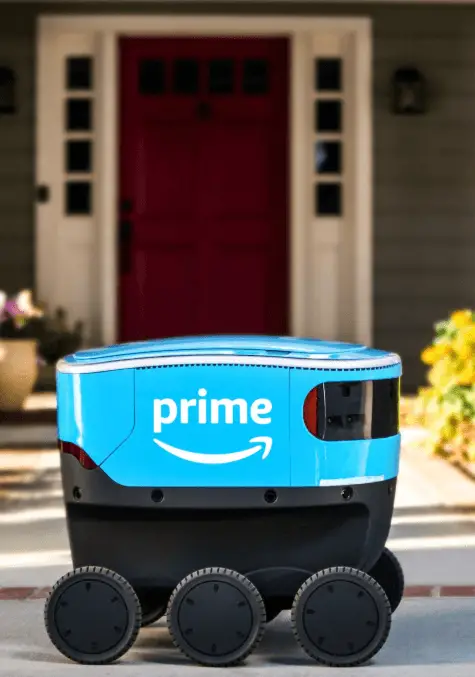 Amazon has been testing these scout robots to deliver different kinds of shipments to its customers and was busy testing it in Washington.
Yesterday the company announced that it is expanding its program to test the delivery using scout robots in California as well.
It seems like Amazon is very serious in automating the delivery mechanism and in previous times also we have seen amazon deploying intelligent robotic mechanisms to make things automated.
In the beginning, the Amazon scout robots will only delivering packages in a broad daylight with one employee accompanying it to test its performance and also to see how things are going.
The continuous feedback and monitoring I feel will then be interlinked with AI to improve the performance of delivery of the entire robot delivery system.
The whole scout robot mechanism will be seamlessly integrated to the delivery process and depending on what kind of product that you have ordered and what makes sense the most Logistically,  will then decide whether the package will be delivered using traditional means or via scout delivery robots.
So instead of seeing a person if you see a little pet robot delivery your package, don't be surprised.
Samsung Announces PCIE-4.0 SSD, Industry's Highest Performance Guaranteed.
It seems Samsung is knocking one ball out of the park after another when it comes to its SSD game.
In one of our previous tectonics we pointed your attention towards enterprise based SSDs recently released by Samsung.
Today Samsung just released a PCIE 4.0 SSD which it says is going to be Industry's  fastest performing SSD.
Built using TLC V-Nand, the SSD will be offered in both U.2 and HHHL form factors with the capacity of 30 and 15 TB respectively.
To give you an idea of what kind of performance that you can expect, Samsung says that the drive will be able to read 8 GB per second sequentially.
Keep it up Samsung, keep it up.
HP Introduces Chromebook x360
Source : IndianExpress
HP on the basis of the reasoning that the usage criteria of people is moving over onto using multiple apps and connectivity has decided to launch HP Chromebook x360.
In an interview, HP Head said that looking at the usage patterns of customers it seems like consumers are now getting oriented towards connectivity and using multiple apps.
And in the light of this development it makes sense to deliver a light, app based laptop just like the google chromebook.
The HP Chromebook X360 will be a 14 inch convertible Google Chrome OS based laptop and will be powered by Intel's 8th generation processors.
This new light laptop will be a great addition to the lightweight ecosystem of Android that consumers are getting used to everyday now.
Xiaomi About To Launch 34 Inch QHD+ Curved Monitor
Source : digit.in
Great news for gamers.
Recent reports and leaks have pointed towards the fact that Xiaomi is about to launch a 34-inch QHD+ curved gaming monitor in November.
The monitor is is supposed to have a 144 Hz refresh rate display which will be great news for people who like a competitive gaming.
The Xiaomi sports gaming monitor can also be used as an extension of Xiaomi gaming platform.
This is not the first edition by Xiaomi in gaming segment.
It has already entered the gaming market with its MI gaming laptop introduced in 2019 which was powered by Intel's 9th Generation processors and have up to 16 GB of RAM.
So if you are a gamer and if you want a high performing monitor at a great a price hold on to your horses till November, because you might be seeing something really interesting in the market.
OnePlus 7t Pro Leaks Are In The Wind
Its just 2 months since the release of flagship oneplus 7 Pro that we are already having news about leaks of oneplus 7t pro which will be a successor to the already released smartphone.
The previous leaks about OnePlus 7T Pro just revealed the front side of the smartphone.
But the latest leaks have also put forward images of how the phone will look from the rear.
Truth be told, looks suggest that you should not keep your expectations too high when it comes to feature upgrades.
The leaks show that the phone will feature a triple rear camera setup which is something we have already seen in oneplus 7 pro.
Other details are not clear at this point, so don't hype your expectations just yet.
Let's see what the new edition is going to offer which will become clear as time progresses.