From times when we were in the awe of what a SNES, SEGA, PS was able to produce, we sure have come too far too quickly.
The latest iteration into all that gaming jazz you keep hearing about is what Valve refers to as Steam Deck.
So, what exactly is Steam Deck, how does it fare against other popular consoles, how is it different, and whether is it worth your time and money is something we are going to look at today with necessary subjectivity and comprehension.
Let me start with the most obvious one.
Is a Steam Deck better than a PC?
Steam Deck is definitely more powerful than some PCs but given the modularity and upgradability of a custom PC, an objective statement cannot be made. You can look at a steam deck as a powerful complement to your gaming PC.
You see I want you to take sweeping statements like Steam Deck is more powerful than a gaming PC with a healthy amount of skepticism.
You see the reasoning is simple, the strength of a PC relies on the fundamental fact that it gives you the control to upgrade it.
So, it's all the case of relative assessment. But a few things can be said about the steam deck with absolute certainty.
It definitely does pack a punch.
Let's talk more about it.
---
Also, here are a few more articles, that I feel will append your knowledge in the subject,
---
What is Steam Deck & How Is it Different?
So, what exactly is Steam Deck and what is Valve trying to achieve with it?
Steam deck is a handheld console via which Valve intends to provide you with a means that you can use to play your entire steam library with.
But wait, that isn't the only thing that this bad boy is capable of doing.
 Now when you talk about a gaming console, the game is designed to do just or mostly that, gaming.
It seems Valve with steam deck is trying to blur that fine line by making Steam Deck as a portable device capable of varied tasks.
From what it looks like the first impressions may give you hints of Nintendo Switch but from the potency of it, its more comparable to a portable gaming PC.
If you put Steam Deck and the Nintendo Switch side by side there are some very obvious differences.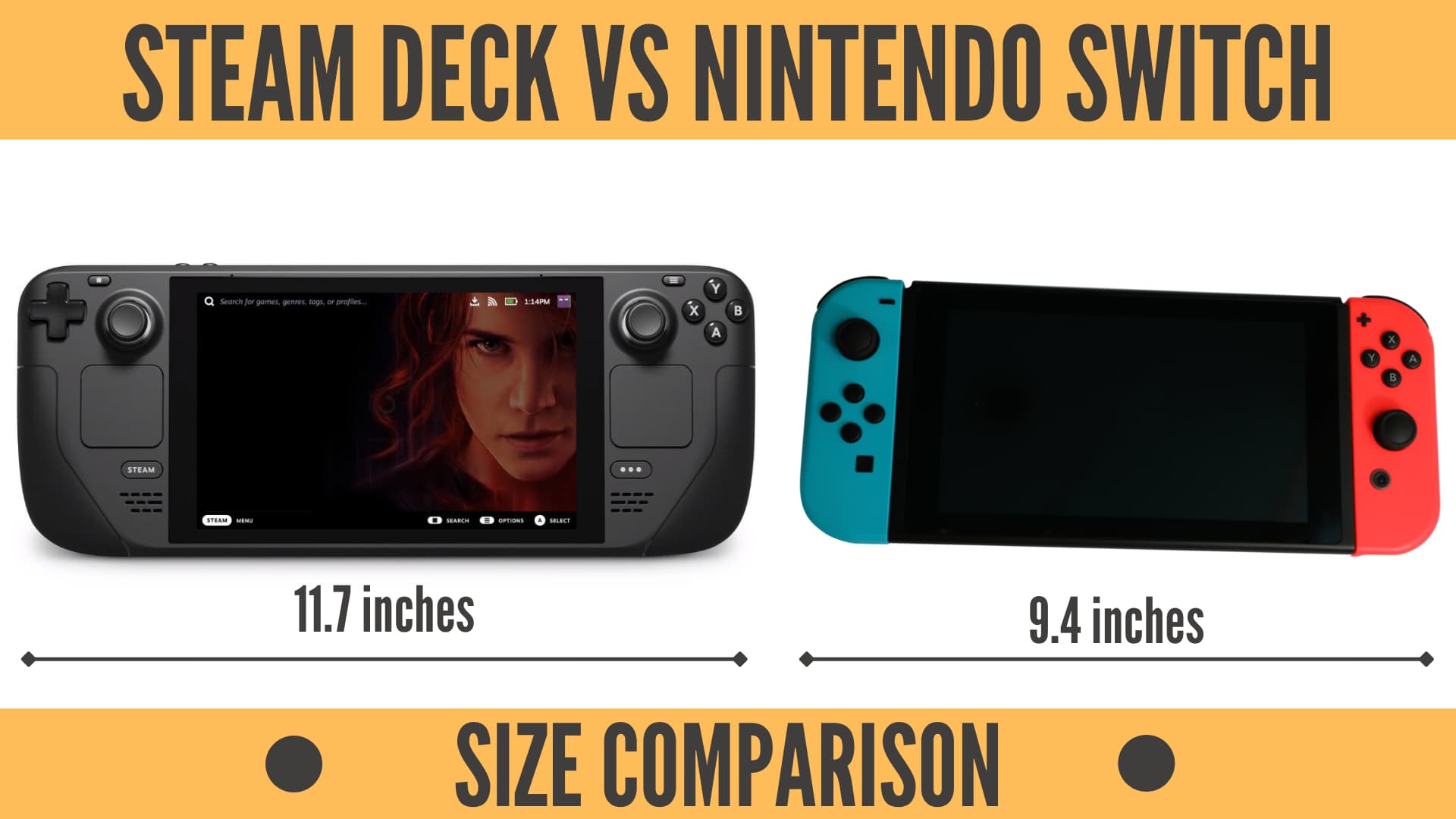 While both of them sport a 7-inch screen the Steam Deck is visibly taller (about 2 inches) and is almost twice as heavy.
The excess weight is to be expected as the device does pack superior hardware. Additionally, all the sticks, directional pad buttons, touchpad do definitely contribute to the added weight.
In terms of battery performance, Steam Deck will offer anywhere from 2 to 8 hours depending heavily on what and how much you game.
You can put that comparison in light to Nintendo switch that offers anywhere from 4 to 9 hours.
As I said, Valve has created the device so that you can seamlessly switch and play out your steam games, but they aren't looking to lock you in on an ecosystem.
For people who wish and like to venture out, Steam Deck user experience can be tweaked to do things that you would expect from a comparable gaming PC.
Owning a steam deck will cost you around $399/64 GB model, $529/256 GB model, and $649/512 GB model.
Given the price, Valve is demanding, it's almost imperative for Valve to create a device that stretches its operating role beyond SteamOS.
What Else can You do on a Steam Deck?
Okay so now that we know Valve is willing to blur the lines that dictate what we can and cannot do, how far can you stretch the device capabilities.
If for some reason you don't feel like gaming on it, you can easily hook a monitor/TV with it, add your usual accessories like controllers, keyboard, mouse and run windows if you ever so dare.
The core operating experience of Steam Deck revolves around the now updated Linux-based SteamOS.
Now as I said, you don't need to be limited to your steam library to enjoy your favorite games.
Just as is the case with your PC you will be able to enjoy games from launchers other than steam. While valve advises against tinkering too much with the Deck but regardless, they have released a video showing you how to do just that.
Goes a long way to show that valve is pretty flexible with the release and isn't using the device to create an ecosystem of sort around it.
Here are some other things that you will be able to do with your steam deck.
If you like mods and I hope you do, you will be able to mod your favorite game with mods of your choice.
You will obviously be able to install operating systems beyond SteamOS.
You have full freedom of choosing your weapon of choice whether it be mouse and keyboard, controller or the in-built deck controls.
Steam deck supports VR and therefore, if you are into VR games that shouldn't be a problem.
If you are into high-resolution gaming, steam deck theoretically can run games at 4K 120fps or 8K at 60fps using external monitors.
Offline gaming.
Apart from all the gaming you will also be able to do normal PC tasks like web browsing and creative/productivity tasks like photo editing.
Now I hope the picture is becoming clearer as to what steam deck is and what are the use cases you can subject the device to.
And I think now you should also start projecting different scenarios as to whether or not you should look into purchasing one.
Can a Steam Deck Possibly Replace a PC?
Now as I said, if you ask me I would rather look at Steam Deck as something that will complement my main PC rather than it being a standalone computer.
But I will tell you one scenario where investing in a steam deck can feel very enticing.
Right now, the pc hardware community is going through what can very well be called a GPU drought.
While the signs are positive, with Intel entering the GPU market and how the global chip shortage would need to be met, the moods of hardware will need a lot more than hope.
Now you see, this past year to remedy the situation I was seeing so many people giving up on building their own PC and getting a laptop instead.
While others went through a lot of hassle browsing internet forums and local pc hardware stores so that they can have at least a decent graphic card they can use.
Now in a situation like this, something like a steam deck can offer a lot of promises.
You see without any doubt, Steam still is everyone's go-to platform for PC gaming.
I have seen so many people who buy prefer to buy games at high prices (on sales and such) just so that they can everything organized in one favorite place of theirs.
Whether you believe acknowledge this or not it does have an impact on people's buying decisions albeit a small one.
So, I believe this can be a very big driving factor behind pushing sales when it comes to the Steam Deck.
Also, I will tell you one more group of people who can find some serious benefit from the Steam Deck.
People who travel actively and want something powerful that they can use as an alternate PC.
You see having Nintendo Switch as a traveling partner is an excellent choice but with Steam Deck you shouldn't be surprised if there is a shift.
This should especially hold true if you care about productivity and carrying out creative tasks like photo editing on the go.
And there has to be a special appeal in a device that can transform into a simple workstation from a gaming console if and when you want it too.
So, to reinforce what I have already relayed, you can think of a steam deck as an excellent complement to your gaming PC, which you can switch to using as a PC if you feel the need to do it.
A Quick Look at Steam Deck Specs
When it comes to painting a picture as to what is the extent you can use a device or gadget, nothing does the job better than specs and benchmarks.
So, before we go ahead and discuss if at all the steam deck is worth our hard-earned money, here is what the console is packing.
| Specifications | Value |
| --- | --- |
| CPU | AMD Zen 2 |
| Cores | 4-core/8-thread |
| GPU | AMD RDNA 2 (8 compute units) |
| GPU clock speed | 1–1.6GHz |
| RAM | 16GB LPDDR5 Quad Channel |
| Storage | 64GB eMMC / 256GB NVMe SSD / 512GB NVMe SSD |
| Display | 7-inch LCD touchscreen/1280 x 800/60Hz |
| Audio | Stereo, 3.5mm jack, dual mics, USB Type-C/Bluetooth |
| Connectivity | Wi-Fi, Bluetooth, USB Type-C with DisplayPort 1.4 |
| Battery | 40Whr |
| Dimensions | 11.7 x 4.6 x 1.8-inch/669 grams |
| Price | $399 (64GB) / $529 (256GB) / $649 (512GB) |
Here are the 9 key takeaways when it comes to the device specifications,
Valve has chosen to go with an AMD CPU, which is a first when it comes to gaming consoles.
The CPU architecture is the same that we have seen with the AMD Ryzen 3000 processors.
Out of the three available models, 512GB seems the most apt purchase given the game sizes we are seeing these days.
The gameplay should be nicely supported by the built-in NVMe drive which is capable of bandwidth upwards of 3000MB/s.
The option for adding extra space using MicroSD card is great, I can't even imagine the rage had it not been so.
The screen resolution is 1280 X 800 which should be great with Indie games and good even for some AAA games on the go.
I don't know how you will feel about AAA games on the device if you are very used to playing them on large screens. Still something is better than nothing.
Talking about RAM, I think everyone will be really happy about this. The device sports 16GB quad-channel LPDDR5 which is for all intends and purposes more than what you will need.
As far as pricing goes, many people will argue that it is a bit on the higher side, but it seems the console is priced fairly when you look at the specs it is offering.
Is the Steam Deck Worth It?
So, now that we have in a very precise way looked at what Steam Deck is all about, what is Valve intending with this release, and how it can serve your gaming or otherwise needs, let us tackle the big bad question.
Is the Steam Deck worth it?
If building a gaming PC isn't a possibility for you owing to reasons like GPU unavailability, portability etc., Steam deck can be an excellent investment if your primary interest is gaming.
Once again, rather than seeing Steam Deck as a pc replacement (although in many cases it can), I urge you to see it as powerful complementation to the PC you already have or will build in the future.
The reason I say this is simple, you see the kind of upgradability that a custom PC offers is unmatched.
Of course, with the kind of hardware that we are seeing getting put in consoles, they will serve you for a long time but guess what, technology changes at a rapid rate.
Especially if you use your PC like me for tasks other than gaming, you will soon realize as powerful as you think your system is right now, you will want an upgrade 6 months down the line.
So, whether you should buy it or not can for the sake of objective analysis can be subject to these conditions,
Are you okay with the price that the Steam Deck demands?
Do you need a gaming PC but can't build one right away?
Do you travel a lot?
And do you love consoles but haven't had the pleasure of owning one yet?
If the answer to all the above questions is yes, I would say yes for what we have seen till now getting a Stem Deck is very worth it.
Post any other questions that you may have below or you can also reach me out via email by subscribing to the blog.
Take care of yourselves and I will see you around 😊