So, do you need a new power supply or will an old power supply work with a new computer?
I am surprised that such an important question is discussed so little.
Choosing the right power supply is a very crucial part of a pc building process.
What's even more surprising is that when it comes to prioritizing pc parts, a power supply finds a back seat in front of components like graphics cards and CPU.
One can understand why that is. Today building a PC revolves around the understanding of extracting maximum performance.
And thus, choosing the best CPU and the best graphics card takes the front seat.
However, we also need to address the fundamental fact that choosing a bad power supply can lead to hampering of the same sensitive parts or worse a fire hazard.
If you ask me choosing the right power supply is one of the most important aspects of a pc building process.
In that light, let me the address, one of the most important questions.
Can you use an old power supply for a new computer?
While using an old power may work, you need to check the collective power requirement of your new PC.  If the required power is less than the rated power of your old power supply, technically you can use it. However, be wary that ineffective and old power supplies can damage your PC parts or even catch fire.
I hope you understand the question do I need a new power supply can't be simplistic.
There are a few very crucial factors and some knowledge base that needs to be understood. For the rest of this article, let me work towards that.
By the end of this article, I am hoping you will a wholesome understanding of whether is it okay to use an old power supply on a new PC.
And case in point, there is a good chance that you may be hunting for the best power supply units that you can get right now.
If so here are the best power supply units under different segments that you can buy right away if you wish to.
Title
Seasonic PRIME TX-1000, 1000W 80+ Titanium, Full Modular, Fan Control in Fanless, Silent, and Cooling Mode,Perfect Power Supply for Gaming and High-Performance Systems, SSR-1000TR.
Corsair RMX White Series (2018), RM750x, 750 Watt, 80+ Gold Certified, Fully Modular Power Supply - White
Corsair RMX Series (2018), RM550x, 550 Watt, 80+ Gold Certified, Fully Modular Power Supply
Fractal Design Ion SFX 650G - 80 Plus Gold Certified 650W Full Modular SFX-L Power Supply with UltraFlex DC Wires – 120 mm Silent Fan with FDB Bearings – Zero RPM Mode - Black
Corsair CX Series 450 Watt 80 Plus Bronze Certified Modular Power Supply (CP-9020101-NA)
---
Here are a few more articles that I think are worth your attention. They all open in a new tab.
---
Understanding PC Power Supply Unit
Now I just mentioned that a power supply unit is one of the most if not the most important part of a pc.
And as such, you must have a basic idea of what the power supply unit is all about, how to understand its specs, and how to know if a power supply is good.
So, how can one have a good gauge of the potency of a power supply unit?
So, if you have been researching pc hardware even for a little bit, you must have come across this term called benchmarking.
Benchmarking is nothing but pulling up real-time stats to understand how a particular pc part of PC in a collective sense performs.
There are so many tools out there that you can use to benchmark parts of your PC like the CPU, Graphics card, RAM, etc. but when it comes to the power supply unit, it's better to stick to the basics.
Every power supply unit has a label that lists details such as maximum output power, amperage, voltage among other information.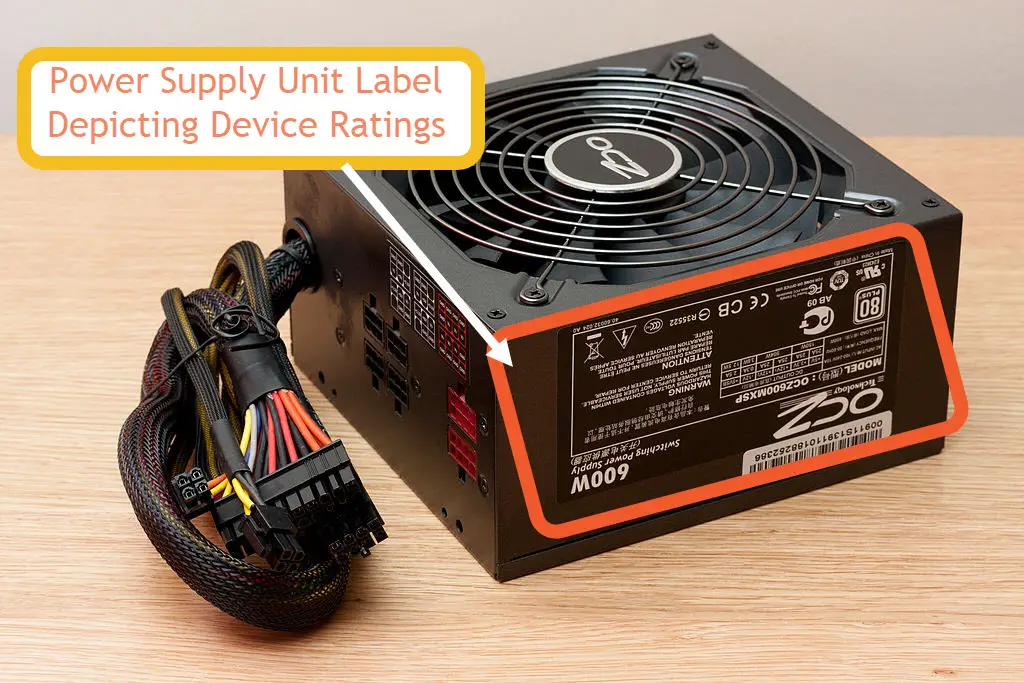 The way labels are structured will vary from manufacturer to manufacturer but sensitive units that deal with power directly have sections that describe maximum output power.
This number in watts is the maximum power that your PSU is capable of delivering.
So, if you are wondering whether your old power supply is capable of serving your new PC components, this is the number you need to consider.
Understanding Your New PC's Power Requirement
Next what you need to do is use a power calculator like this one and calculate the maximum wattage your PC as a whole will demand.
If,
New PC wattage demand < the rated wattage of power supply
You should be able to use your old power supply unit.
If,
New PC wattage demand > the rated power of power supply,
Get a new power supply unit without compromise.
With power supply units you don't skimp ever, with price, with wattage or with brand.
I can't stress this enough because only effective power supplies can make your other PC hardware run properly.
Skimp or choose a bad one and you risk component damage or there have been countless reports of power supplies catching fire.
Most PSUs today also list out a section that describes output for each voltage value.
The voltage values (+3.3V, +5V, 12V, etc) are listed next to the current draw capability in amperes.
The most important value here is the +12V rail. The most power-hungry hardware unit aka graphics card draws power out of it. For your old PSU to be able to run any modern moderately powerful GPU it must have an amperage of around 30A on the 12V rail.
So, in order to be assured that your power supply will be potent enough to support all components, check the maximum wattage and 12V rail supply.
Connecting New Motherboard to the Old Power Supply
So, I hope you now have a much better understanding of what a power supply unit is and how to gauge its usability in the face of new components.
If you have performed all the necessary power requirement checks and confirmed the capability and capacity of your old PSU, do these preliminary checks before fitting it into your PC.
Clean the PSU thoroughly. You want all the vents and filters of your PSU clean as a whistle. Because internal electronics of a PSU do get heated up and we want proper ventilation to push that heat out.
Check PSU cables carefully. You don't want your PSU cable to be faulty, or have splits in its insulation. Check cable continuity if possible, using a multimeter. The new PC parts must receive an uninterrupted flow of power to them.
Check plugs.  See that the cable plugs are all whole and not broken or have loose metal connections.
Check plug compatibility. Just ensure that the plugs demanded by the new components are complemented by what are offered by the PSU. This check is very important because there are chances your old PSU may not have some connectors demanded by new PC components.
Once you have done these checks it's time to do the most important task. And that is connecting the power cable to your motherboard.
Most modern motherboards require a 24-pin power connector to work. And PSUs for a while now offer a 24-pin power connector for motherboards.
So, it's difficult that your power supply's motherboard connector features less than that. With that said, certain old power supplies did use a 20 pin plug.
Once again this is going to be very rare.
A 20-pin plug may work but I don't recommend using it directly as its risky.
Most motherboards today essentially require more than a 20-pin power connector to operate. Using a 20 pin PSU can very likely lead to power delivery failures which as a consequence can damage sensitive circuitries.
Connecting Old Power Supply to The New Components
So, if you have successfully fastened the 24-pin connector to the motherboard, congratulations.
However, the task isn't done yet.
The other important devices that need to be connected to your motherboard are graphic cards, storage devices among others.
And in order to establish a successful connection, there is a good chance that you may need a few adapters for compatibility.
The first part that needs is due attention is of course the graphics card.
You see, most cards of the modern-day in the medium-end segment work using a 6-PIN PCIe express connection. Contrast this to a time when even the most powerful GPU of the time was content drawing power from the motherboard.
Some high-end graphic cards may also feature two 6-pin or a 6-pin and an 8-pin connector. Usually, you will be able to complete the bridge between these kinds of graphic cards and the PSU using multiple Molex connections with an adapter.
Sale
Cable Matters 2-Pack 8-Pin PCIe to Molex (2X) Power Cable 4 Inches
PCI express power cable adapter connects a PCIe video card with an 8 pin connector to a power supply with two spare L4 Molex power connections; Check that your PSU is rated to power the video graphics card
PSU upgrade saver power cable provides an option for a power supply without a PCIe connection for GPU power; Dual Molex connectors are designed to connect to separate rails on different Molex daisy chains to power a PCIe video graphics card from an older PSU
8 pin PCIe to Dual Molex female to male cable provides a convenient solution for video graphics card power with two Molex connectors for GPU cards that require more power
Sturdy graphics card power cable has male Molex connectors and a female PCI connector with a latch to prevent accidental disconnections
Video graphics card compatible with graphics cards from popular manufacturers such as EVGA GeForce, Gigabyte, Sapphire, and XFX
The next connections that will need your attention are the storage units in the form of SSDs and possibly HDDs.
Both of them need SATA power connectors and it may be possible that the old PSU may not have them or enough of them.
And to make the connection possible you may need some Molex to SATA adapters.
Sale
Cable Matters 3-Pack 4 Pin Molex to SATA Power Cable (SATA to Molex) - 6 Inches
Flexible SATA power cable connects the latest Serial ATA hard drives or optical drives to a power supply with legacy Molex LP4 ports; Male to Female Molex to SATA cable with straight connectors is the perfect 6 inch length for internal cable management
Cost-effective 3 pack of Molex to SATA power adapter cable provides a spare or replacement SATA to Molex cable when upgrading your computer
Ideal solution for the DIY computer builder or IT tech repair when installing new or replacement SATA hard drives or DVD drives to a power supply that only has Molex power ports
Recycle legacy equipment to connect new SATA HDDs and optical drives to older power supplies with 4 pin Molex ports
Compatible with 5V SATA devices connecting to 12V ATX power supplies; Sample compatibility list includes Antec VP-450W Power Supply, 24x DVD-RS serial-ATA internal optical drive, DVD SATA Supermulti Burner, Coolmax 500W Power Supply, Cooler Master Elite 460W Power Supply, Crucial 256GB SATA 2.5" Internal SSD, EVGA 430W Power Supply, Intel 520 Series 120GB SATA 2.5" SSD, Kingston Digital 120GB 2.5" SSD, Kingston Digital 240GB SSD 2.5" SSD
Will the Old Power Supply Be Good Enough?
Okay, so the big question is, will the old power supply remain reliable in front of your new pc components?
To a certain degree, I have answered the question in a previous section of the post.
Which goes along the lines of first gauging what kind of power your PC collectively with its new component will demand.
And from there checking the PSU labels and maybe checking some reviews online regarding its stability and reliability in power delivery should be the way to go.
But when it comes down to realistically assessing the potency of a power supply, factors like brand and the general reputation is very important.
As I said again and again in this article, never ever skimp on a power supply.
The hardware has the power to literally make or break your computer system and the hardware involved.
And so, if in your general research you come across consistent negative reviews in review sites or better forums, trust them and stay away from it.
It is also entirely possible that sometimes a particular brand may have produced PSUs that are excellent and PSUs that were horrible.
One such example is Corsair where their VS line of power supply didn't receive all that love from the users and it saw a lot of complaints. But they responded really well to the feedback and produced the CX and CXM line of power supplies that performed really well.
One of the top brands regarding which I have almost always seen positive reviews is EVGA. Another worthy mention is Seasonic.
The point is when it comes to power supply going a bit deep into research I not only important but also worth your time.
A power supply that isn't manufactured properly or is created by a not-so-well-known or shady manufacturer can, I reiterate, make bad things happen to your PC.
It may say it delivers 600W but end up delivering less than 350W which overall won't be good for your PC parts or your PC in general.
So, do your research, browse forums for answers or ask me directly but ensure you are choosing just the right power supply for yourselves.
FAQs Regarding Old Power Supplies
Now then we have addressed the questions like do you need a new power supply and can you reuse your old PC's power supply in a new computer let me wrap up the article by answering a few more questions that you guys requested me over the email.
Can A Bad Power Supply Damage Your Computer?
Yes, have no doubts about it. Choosing a bad power supply from an unknown brand or a well-reputed manufacturer in the space can damage your hardware units and at worst may even cause a fire hazard. Always choose the right wattage power supply from a well-known brand.
Can You Use Any Power Supply for A Computer?
No, you definitely cannot use any power supply for a computer. You need to research the power demand of your PC, what kinds of connectors your different PC parts need, power supply wattage, brand of the power supply unit, modularity of the PSU among other things before picking up a power supply unit.
When to Replace A Computer's Power Supply?
The moment you doubt that your power supply unit may not be enough to fulfill the power demands of your PC parts is the precise time to change the PSU. Never, drag a PSU knowing it isn't fulfilling power demands, is giving a burning smell or experiencing frequent power cuts or failures. The power supply isn't the hardware you skimp upon.
I hope you enjoyed this write-up on power supply units and the queries around them.
If you have any other questions, do let me know in the comments section, or better yet shoot me an email. Because I don't want you to choose the wrong power supply when you have taken the time to read this article to the very end.
I appreciate your patience and time very much.
So, subscribe to the blog my friend, and hang along as I enhance your knowledge to tech stuff systematically.
Take care of yourselves my friend and I will see you in the next one!
Tada!