An easy way into controlling mobile data usage,
Have you ever just opened your eyes one day and found all your mobile data exhausted. And for the life of you, you can't remember when the hell did you turn on the mobile data usage.
Google newest android app might just be the problem to your carelessness.
I am sorry, for your too busy to be attentive aspect.
Ladies and gentlemen, boys and girls. I give you. I mean google gives you,
Datally : An insightful reduction in mobile data usage
The application is simple nothing fancy, but quite handy for anyone who doesn't want to tweak network settings manually and separately for each app.
Download it from here : Datally official app
It has just one function and that is to stop apps for gobbling up your precious gigabytes of data.
Ideal for you if you get a continuous message from data provider that you are using abnormal amounts of data.
Very, very beneficial for students that have only so much high speed data to work with. 
You require no extra brain cells to set it up. Its quite easy.
You can see the interface and settings in the numbered images I have set up over here in the post.
To be very honest there's nothing new in datally – data meters have been included in the android environment for quite sometime now.
Its just that it has never been presented in such a user friendly way.
Setting datally up for data usage
As I said earlier, it doesn't necessarily offer something new, rather it offers a better and more user friendly way of dealing with mobile data usage.
Many android non-power users either find it difficult or are lazy to venture into the settings app to see their mobile usage.
Datally is actually an excuse for not doing that.
Now don't conceive the app as not useful. I have used it and found it quite useful and so have five million people who downloaded it. 😛
Now in addition to downloading, installing and giving the necessary permissions (image 2) , you will also need to turn on the datally access to data usage switch as shown .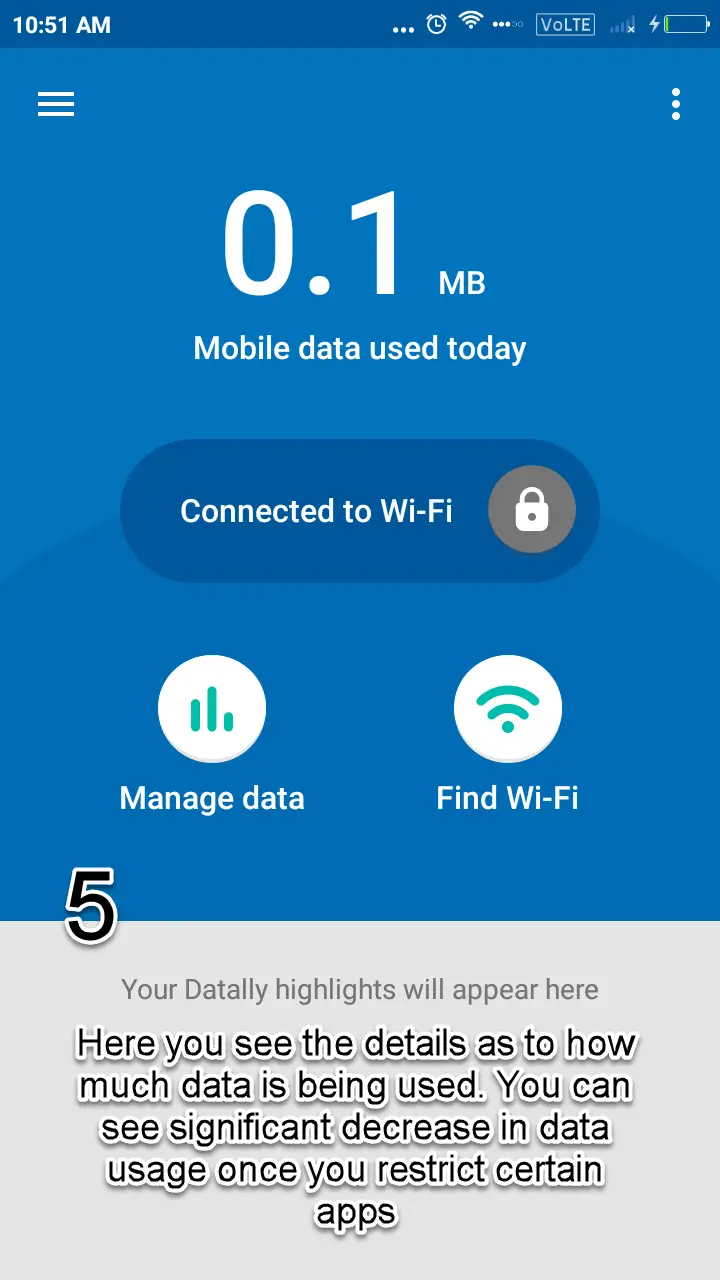 After this brief setup wherein you will also need to allow datally access to a VPN for it to work, the app will transfer you to a screen that allows you to see how much data you have used today(image 5).
From here on you can manage your data usage as to your weekly/monthly usage (via manage data button). You can also set up threshold data alerts and control which apps have access to your mobile data.
You can even stop all data usage for an app by just a tap.
Search for the closest public Wifi,
But out of all the ease the app provides.
The best feature I found was the ability to find public wifi at a single tap. Wi-Fi tracker.
Tap on the 'Find Wi-Fi' (image 5) button and datally will retrieve a list of nearby places that offer public Wi-Fi networks.
It even gives you the directions via google Maps and rate the quality to help other users in the area.
According to google, people of Philippines have saved about 30 percent of their mobile data in comparison to their pre-datally data usage.
If you haven't give it a try. If you have share your experiences in the comments below.
Hope you enjoyed this post and found it informative. Furthermore I would love to hear your two cents on the app or any such app you might be using in the comments below.
Take care guys and I will see you in the next one.
Namaskaram 🙂 _/\_