So good old google setup shop for a google hardware event this year.
Most of you definitely might be aware of various products it had to offer and many of you might be using them too.
On an off-chance that you are not. I decided to create this fun read to throw some light as to where google might be heading its hardware game into.
Who knows maybe you will decide to go with one of old horse's product.
You know just for some google kicks.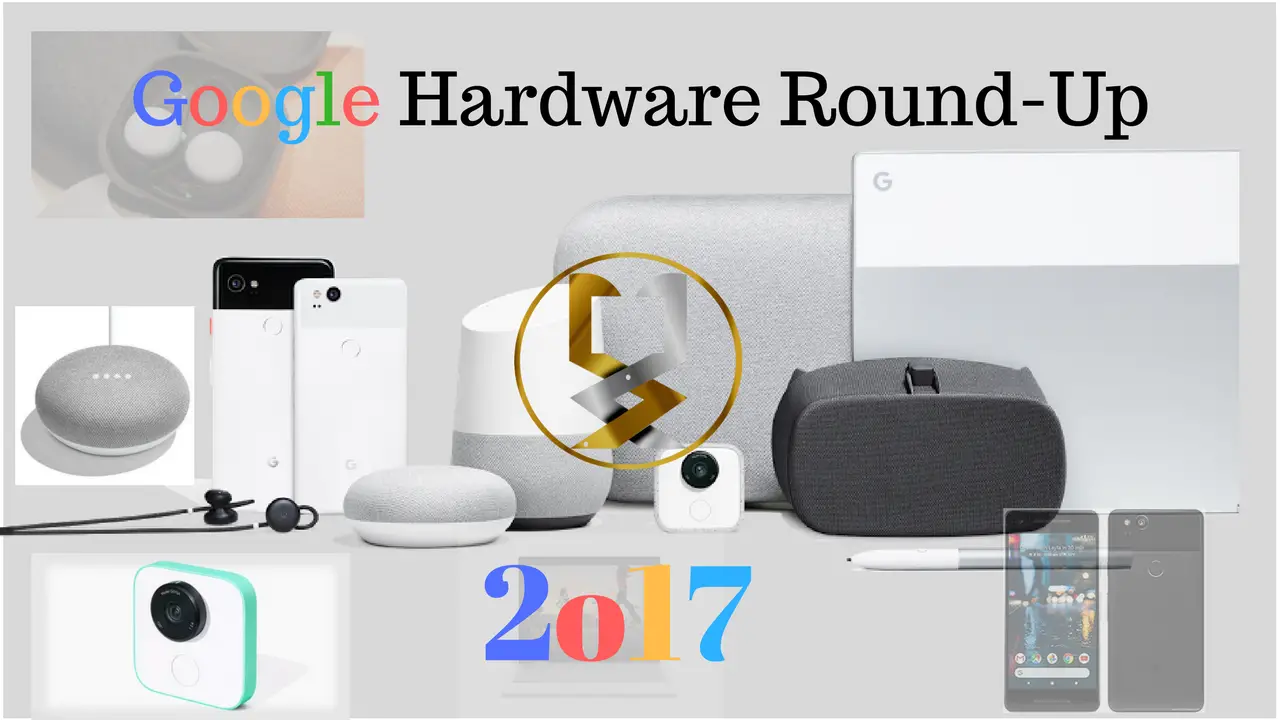 A Look into Google Hardware Offerings in 2017
Take something good and make it better.
The Google Pixel 2 and Pixel 2 XL
The upgrades offered to the second edition to an already great smartphone are not dramatic to look at.
However, that doesn't mean they don't offer a myriad of under the surface tweaks.
Edge Sense is included in both them.Yup, squeeze that thing on the side and google assistant will be on your service.
A much requested and awaited water resistance paves way for a rugged usage scenarios.
With the 3.5 mm jack gone, resistance from users was expected and was seen and always are always two sides to the same coin.  Some welcomed it and others well let's just say, they had a few nice words to say.
But the no second opinion stuff presented with the device was the camera. With optimization such as optical image stabilization and single lens portrait mode, image quality offered was a sweeping winner.
---
Google Sings And Speaks Now
So google in its infinite wisdom decided to take on Amazon's Echo Dot.
With what is called the Google Home Mini.
Coming is coral, gray and charcoal colors, they definitely seem to have snappier sounds than the dot but the ability to distinguish between background noises is debatable.
But for ~50 $ the thing seems classy as hell in my perception and is definitely more than capable of some light listening and tapping into google assistant's growing feature set.
---
PixelBook, Behold Google's Input Into Mainstream Laptops
Pixelbook I feel more than a 2 in 1 laptop is a statement by google wherein it is saying we want to make laptops for a wider audience.
With improved memory from 16 GB to 128 GB, google definitely intends to extend the horizons of usage you can accomplish from the device.
I think the strategy that underlines the release of this google hardware is pretty clear.
They don't want it to be box that runs chrome but a laptop aimed at people that may not need more from what it has to offer.
How successful will it be or whether it will be a doorway for more diverse devices only time will tell.
---
The Budding Pixels
Again and I think we are having a pattern here.
Google pixels buds are the answer to Apple's air pods.
Thing is you are going to get the best out of them only if you own a pixel 2.
That's
Limiting ???.
Apart from that most people actually found them a bit uncomfortable around the ears and the surrounding sound isn't blocked at all.
And the google translate feature which is quite okay, I mean it will translate other languages for you in your ears via assistant but,
Don't expect a flawless translation.
All in all, I think if google treats this as the first prototype for something better later, that would be nice.
Because as for now they are just buds and may take a few iteration to turn into a plant, if you know what I mean :P.
---
The AI stalker Clips
Okay so these things are interesting or rather confusing maybe even creepy according to some people.
So basically it's a camera that captures things that it thinks you may want.
hmmmmmmmm…..
Google says they developed this tech for parents and pet parents.
The idea is it will be capable of capturing photos/clips of you or your family at the right moments without you having worried about capturing them.
And as with everything some think that's smart.
Some think it's creepy. Not to mention they are 249 $.
Me. I really don't know. I just keep getting these questions in my head over and over again.
How much do you know about me google ?. Well, I mean there isn't much to know about me.
But, you know the feels right ?.
hmmmmmmm…. ?
And I would really like to know what you guys think about that.
---
Google Hardware : What you getting at ?
Let's be honest.
As vast as google is, it has still a lot to do in the hardware's game to combat the likes of apple.
One thing that is a common thread and which frankly is expected as they are "Google hardware" is an integration of google services (google assistant) across the devices.
I honestly think google has given a good jab right now as far as its hardware input in the market is concerned.
But we are still waiting for that knock out punch aren't we. ?
So what do you guys think ?. Has anyone of you been using any of the devices discussed ?
If yes let me know your opinions on them in the comments below.
Until next time.
Namaskaram  _/\_ 🙂