Before we go ahead and see what universal remotes work with Amazon Fire TV and subsequently look into the top 10 best universal remotes for Fire TV and Fire TV stick, let me quickly paint an entertainment domain picture in the current times.
The avenues of entertainment in the digital world we are living in are basically endless.
Starting from our little handheld devices to those big smart TVs, they all offer the convenience of having entertainment on the go.
More and more device manufacturers are increasingly seeing how they can pack more features in devices and at the same time keeping the price competitive.
For example, even in smart TV users are now demanding more apps that they can make the most out of their smart TVs.
My previous post on best browser apps for smart TV was received well from my rabid readers beyond anything I expected, I have to say.
And I am seeing a pattern here with all my well to do posts here on Yantraas.
With every post that gets a good reception, I get hammered by even more questions right into my mail box.
Hey, don't get me wrong, I am not complaining.
On the contrary, I enjoy clarifying user queries that I know are going to help them in some small yet significant way.
Today let me tell you what universal remotes work with amazon fire TV and fire TV stick if they work at all.
The tech introductions by Amazon in the form of Amazon Fire TV and Fire TV stick have in a way provided a new avenue to seamless streaming without huge investments.
The Fire TV and even the Firestick are an excellent way to convert your HDTV (provided it has an HDMI port) to an "almost" smart TV capable of streaming your favorite TV shows from your favorite media streaming outlets like Prime, Netflix, Hulu you name it.
But it's so odd with every bit of extra convenience comes extra cost, maintenance and ironically some inconvenience as well.
Check this out, you now have a remote for your TV, an additional remote for, of course, your Fire Stick, an extra remote for your cable TV box maybe, don't forget one for your DVD player and one that controls your audio system just adds some spice into the mix doesn't it?
Sorry for being a bit nasty, hehe.
But I am sure both of us are getting the point, right?
So, without any further ado let me solve all your problems. God, I sound like a salesman.
Believe me I am not.
You will see that by the end of this post.
Do Universal Remotes Work With Firestick?
First things first, let us be clear about whether you can use a universal remote with Fire TV and firestick.
The answer is yes, there are universal remotes that you can use like the Logitech Harmony Smart Control which are not only great with Fire TV and Firestick but can also control most of your smart home devices and gadgets that you can latch with it. It even has the capability for Alexa integration and can include into its control domain smart devices like thermostat, fans, smart lights and the likes.
So, don't worry your demand is apt, in place and actually has a variety of products that can fulfil it.
While universal remotes like the Logitech Harmony Smart Control  will probably fulfil all your requirements but I understand you would want to have options.
In the subsequent sections that follow I am going to relay top 10 best universal remotes for Amazon Fire TV and Fire TV Stick.
I will ensure small readable highlights each of these universal remotes offer with relevant pros and cons neatly organized on the basis of budget.
Yet, if you are for some reason in a hurry (I would rather you not), here are the top 10 best universal remotes for Amazon Fire TV and Fire TV Stick presented to you at a glance.
Overall Best: Harmony Smart Control
Best If Budget Isn't A Concern: Harmony Elite
Budget Alternative To Harmony Elite: Harmony Companion
Universal Remote With AI: Caavo Control Center
Best Pick For Smart Homes: Sevenhugs Smart Remote
Affordable Option: Inteset Universal Remote
Universal "Air-Mouse" Remote: WeChip
Innovative Add-On To Fire TV Remote: Slideclick Universal Remote
Budget Universal Remote With App: Sofabaton U1
Best Smartphone App: Cetus Play App
I have arranged the best universal remotes for Amazon Fire TV and Fire TV Stick in decreasing order of relevancy.
Meaning the universal remote for Fire TV on the top is going to be my most recommended and the last on the list is going to be the least recommended.
However, just because a pick is lower down the order doesn't mean the choice is bad or anything.
It's just that in the different parameters and perspectives I use to order the list enabled the pick to be lower down the order.
So, lets go ahead and look at the best universal remotes for Fire TV and Fire TV Stick.
Top 10 Best Universal Remotes For Amazon Fire Tv And Fire TV Stick
Okay then, let's now go ahead and look at the 10 best possible options for the best universal remote that work with Amazon Fire TV and Fire TV Stick.
Universal remotes that can work with Fire TV and Fire TV Sticks aren't that numerous to be honest.
Makes my task a bit easy to be honest.
Not like what I had to do while selecting the best SSDs for video editing.
Nevertheless, the options that are in fact available I think are pretty apt and will be the answer to your question what universal remotes work with amazon fire tv.
Let's start with my best recommended pick.
Harmony Smart Control
The Harmony Smart Control is your overall winner for the best universal remote that is capable of working with Amazon Fire TV and Fire TV stick.
While you may argue that the Harmony Elite should be the winner.
To that I would say, have you checked out the Harmony Elite's price bracket? Hehe.
If you can afford the Harmony Elite then of course by all means go with the Elite.
However, because this post is going to cater a lot of readers, I think putting the relevant importance to budget is imperative.
There are a lot of good reasons for picking up the Harmony Smart Control.
A big one being its capacity to be able to work with more than 270,000 devices incorporating about 5000 brands.
Its capacity to be able to control 8 devices like TV, DVD, Fire TV Stick of course, cable TV box, thermostats and gaming consoles make it even more attractive and future proof.
Another important feature offered by the Harmony Smart Control is its capability to also sync with Google Home and Echo devices.
This brings the voice recognition feature into the mix which is always a good thing looking at how devices are taking rapid manoeuvres in getting smart.
So, you will be able to turn your TV on, switch from HULU to Netflix for example and play your favorite documentary by asking Alexa.
How cool is that.
The Harmony Smart Control uses technology like IR, W-Fi and Bluetooth, so you are set with getting the signal across without worrying about straight firing lines.
Therefore, an incredible pick for almost everybody where you get every essential feature you would want without the price point of the Harmony Elite.
Harmony Elite
Sale
It's simple when it comes to the Harmony Elite really.
If you are okay with giving out those extra bucks, you just can't go wrong with the Harmony Elite.
Harmony Elite is a downright representation of everything that's good with Logitech.
It's weighted properly, has the right kind of grip, has beautiful design, the kind you would expect from a premium product.
The highlight is of course the 2.4-inch touchscreen that adds all the bits of contextual information you would need.
But there is more than just a handy remote to the Harmony Elite.
The box comes with a charging dock for the remote's built-in rechargeable batteries and the Harmony Hub.
The Harmony Elite comes with the price point it does but it actually does justice to it.
It does everything that other Logitech devices in the same domain like the smart control and companion do.
Once again you will be able to integrate Alexa or Google Assistant and control your smart gadgets and all your entertainment units from one convenient point.
The buttons are backlit and provide haptic feedback over onto the touch screen so that you are aware of which buttons are being pressed even in dark.
The Harmony Elite is simple enough to setup. The helpful Harmony App will walk you through every single step you would need to setup your devices.
One awesome thing worth mentioning when we talk about the Harmony App is that you can use it convert your smartphone into a remote as well.
As a matter of fact, you can just get the Harmony hub and set it up with your smartphone and you are good to go.
It's cheaper of course, but I really like the remote, it's worth it if you can get it.
In addition to being able to act as a universal remote for all your entertainment system the capability to be able to control the smart devices should seal the deal for you.
So, the verdict is simple, if you can get it, this is without any doubt the best universal remote for Fire TV and Fire TV Stick you can get for yourselves.
Harmony Companion
You can look at the Harmony Companion as the trimmed down version of The Harmony Elite.
Providing excellent value the Harmony Companion comes with nearly all the functionality offered by the flagship Harmony Elite except for the remote's LCD touch screen and some other features.
The remote control that comes along with the hub can be seen as an upgrade over the one you receive with the Harmony Smart Control discussed above.
The buttons are better placed and having dedicated keys really helps in conveniently controlling smart devices like the thermostats.
Logitech decided to bring some variety into the mix by manufacturing the remote in black as well as white.
The hub, the remote and the app tie together seamlessly incorporating your Fire TV and other smart gadgets under its domain of control.
Once again, the whole controlling system couldn't be labelled cheap but it does offer everything it asks for in terms of cash.
Like other Harmony devices you can easily incorporate voice commands into the ecosystem thanks to its compatibility with Alexa and Google Assistant.
The hub is what does all the data storing, software updates, networking with the remote, app, home network and the Harmony cloud.
The communication between the remote and the hub happens over RF meaning you don't need direct line of sight to operate it.
The small size and the soft backing make the remote feel pleasant to touch and hold.
One obvious thing that you are going to miss out when compared with the Elite is the haptic feedback and the backlit keys.
Otherwise, when it comes to controlling your Fire TV, AV systems and smart devices, the companion is apt and I can't see a reason for you not picking it.
Caavo Control Center
Sale
Caavo Control Center Smart Remote and Home Theater Hub with Voice Control-Lifetime Plan
[FAMILY FRIENDLY SMART REMOTE + CONTROL HUB] Control Center's intuitive TV interface and simple voice remote make it easy for everyone in the family to enjoy your home theater, so you never have to worry about anyone getting stuck on the wrong input or struggling to figure out which remote to use.
[RELIABLE TV CONTROL] Ditch your AVR remote (and all the others too) and control everything with an all-in-one remote that just works. No more bad states or losing sync with the TV. Control Center's state-aware HDMI Hub always knows when the TV is on, switches to and powers on/off the right devices, and adapts the remote to control the device you're using.
[SIMPLE AUTOMATED SETUP] Plug in your AVR and devices and Control Center automatically detects and identifies everything by name, then a series of on-screen prompts guide you through the rest.
[SAVE TIME WITH DICTATION] Using a universal remote doesn't have to mean losing out on time-saving dictation features. Open any app or device, say what you're searching for, and Control Center automatically fills in the search screen for you.
[COMPATIBILITY] Works with streaming players, Cable/Satellite TV, sound bars, game consoles, DVD/Blu-Ray and AVRs. Connect up to 4 devices plus your AVR or sound bar. 4K HDR, UHD. Dolby Vision NOT supported. U.S. Only. Please contact support on our website with any questions.
The capacity of Caavo Control Center  to be able to control a Fire TV is a recent one. This was made possible thanks to the new Caavo Companion App.
Hooking up your Fire TV to your Caavo Control Center is as easy as downloading the app and following the on-screen instructions.
While I wouldn't say that it the overall performance is such that I would recommend them over Harmony remotes, but it does offer some really nice features.
In addition to being able to control your Fire TV one feature that I really dig is its capacity to index content from multiple streaming services.
Although if you are using like a plex media server, I have observed Caavo recommending Amazon and other paid media streamers above content you own.
Setting up the Caavo Control Center isn't hard but I think its important to highlight how everything works, given that Caavo is a bit different than all the options we have discussed so far.
The package contains a remote obviously and a control center box which is basically a black 4-port 4K HDR HDMI switch.
The way you set it up will be different if you have say, a soundbar in the mix, however, the basic setup still remains consistent.
All the entertainment units you have get plugged into the Caavo Control Center and the control center than gets plugged into your TV.
You will be correct in asking why does everything need to be plugged into the control center?
The answer to that my friend is AI.
The control center uses machine vision with the help of which it operates various interfaces on your word.
For example, if you say to it, "Play Band Of Brothers On Amazon Prime".
The control center will open Prime, use the search option to select band of brothers and starts playing the video for you.
Voice control for caavo is excellent to be honest.
You can similarly latch on various devices like the gaming consoles, Sonos speakers, cable TV box, Apple TV, Roku and the likes in addition to your Fire TV of course.
The fact that you need a subscription to unlock voice control and content discovery can be a turn off for many people.
I think Amazon is now offering a bundle that includes a subscription.
That being said, Caavo Control Center is still a very frugal buy when you look at some of the premium options we have considered so far and given that it offers almost the same features as most of them.
So even with the lifetime subscription it remains an apt and viable choice.
Sevenhugs Smart Remote
We have to thank Kickstarter for the origins of .
As far as the looks and design of Sevenhugs is considered, it looks more like a smart gadget controller (maybe Nest) and less like a universal remote.
The construction is sleek, neat and gives that premium gadget feel.
An incredible feature you will notice right of the bat is the capacity of the LCD display to adopt depending upon the device it is currently engaging with.
An excellent shepherd to a smart home getting saturated by smart devices.
I mean it when I rave its capacity to control a smart home given the fact that it is capable of controlling 650,000 devices, so basically almost all devices you can think of.
How cool is that.
No more disturbing yourself from watching a movie just to modulate the thermostat.
The question with now of course isn't the capability or the capacity but the price point.
Is the price to performance for justified when seen in the light of top performers in the industry like the Logitech Harmony Elite.
If you ask my personal opinion, I think has a huge potential but it still has to cover some miles when it becomes my top choice for the best universal remote.
And it goes so with every emerging technology.
For me, absence of features like Alexa, Google Assistant support, a dedicated smartphone app is where may lose its edge when compared with the Harmony Elite.
Not to mention the extra price.
However, if you look at it from a strict smart home centric perspective, the innovation, usability, the capacity to morph its display on as needed basis and the huge domain of devices it can control can present a very strong reason to have it.
Inteset Universal Remote
In order for you to operate your Fire TV with Inteset Universal Remote you will have to use these three essential components.
Inteset IReTV Receiver
Control your Streamers lacking an IR receiver with the Inteset INT422 or the Harmony universal remotes.
Supports Fire TV requires a "Y" Cable (except Gen 1 Stick), Nvidia Shield (2nd Gen & 2019 Pro), Media Center, Kodi and Raspberry Pi. "Y" Cable sold separately
The INT422 will also work with nearly all TV's, Streamers and other devices that do not require an add-on IR Receiver
No Drivers are needed. Plug and Play to any 2 amp USB port in the device you want to control
Blue LED flashes when a signal is received. LED can be turned on/off on Fire TV & Nvidia Shield. Cable is 3 feet long.
Sale
USB Y Cable
Note: It does not work for car USB/ Apple Carplay.as these systems do not support USB hubs.(Compatible with TESLA model 3,which is similar to Laptop equipment).
Upgrade Function: USB 2.0 Male is for all USB Devices for Data Transfer&Power Charging ( Support ALL devices )..
Connectors: USB 2.0 type A 1 male to 2 USB 2.0 type A female.Suitable for LED power lights, PC. Notebooks, etc.
#28 Fully shielded cable with durable, yet flexible jacket,Protect Your Usb Port
A power adapter is recommended. Ensure adequate current. An 18-month warranty is available.
Sale
Inteset Universal Remote
Rugged, Commercial-Grade. Pre-programmed with Apple TV, XBox One & X, Media Center/Kodi and Roku device codes (excluding Roku Stick) which are easily changed. Full LED Backlighting-All buttons. 2 AA Batteries included.
Button Labels- These self-adhesive labels, as pictured, can be cut out and applied under the buttons that you program for your device functions; Key Punch Through-Allows the user to configure the same key function in one mode into any or all other modes; Warranty: One Year Replacement for Defects.
Device Code Database- Complete worldwide database of device codes; Library Search Capability-You can search the database for any missing codes; Learning Capability-Used to program any device that is not in the database. Go to: universalremotes.net.
Macro Programming-This allows the programming of a string of commands (up to 15) within a mode or mode independent.
With the capacity to be compatible with about 100,000 devices the Inteset Universal remote is one of the most affordable answer to what universal remotes work with Amazon Fire TV.
This 4 in 1 universal IR remote is incorporates a lot of features that you find in high-end universal remotes such as macros, custom button labels and a built in A/V device database.
Here is a quick image-based representation of how to setup your Inteset Universal Remote which you the will be able to use with your Fire TV.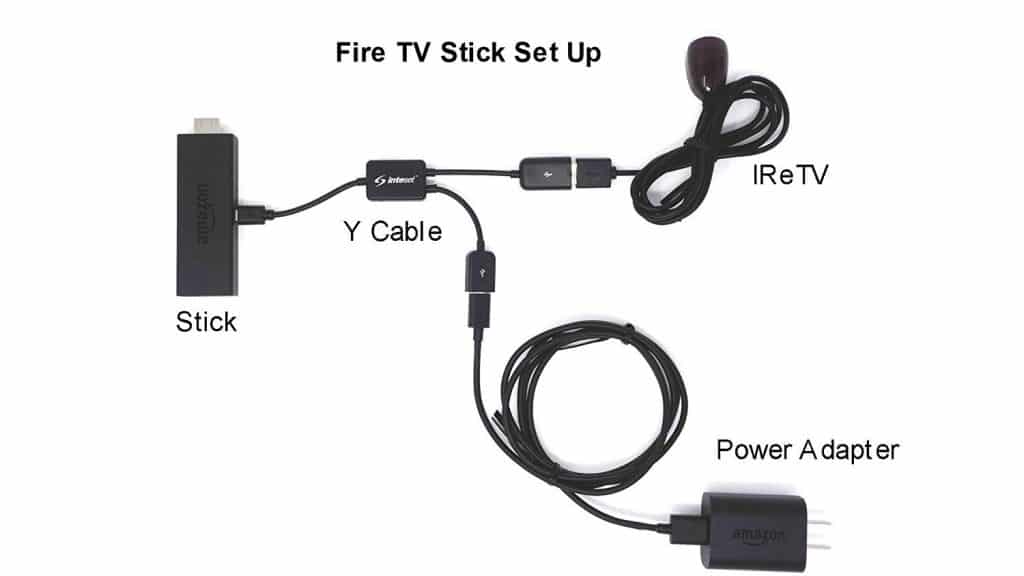 Insert your Y cable first into the Amazon Fire TV Stick as shown.
The other two heads of the Y-cable go to the power adapter and the other into the IReTV receiver.
The receiver is the key to establish communication between Fire TV Sticks and the new remote.
An interesting bit about the remote is the fact that it comes with 4 pre-programmed keys at the top that can be deployed right out of the box for Apple TV, Xbox One, Media Center and Roku respectively.
As far as other streaming devices are concerned you can easily assign any entertainment unit to the unused buttons and start controlling them.
Pretty handy, don't you think?
If budget is a concern for you and you don't mind the cluttery setup or the extra effort in programming the buttons, I think this is an excellent answer to what universal remotes work with Amazon Fire TV.
WeChip
Any nostalgia when looking at the remote?
You are not the first one if you think this universal remote reminds of the Blackberry phones of old.
I am pretty sure not many will appreciate the QWERTY keyboard slapped on an already small remote, but regardless the remote works really well.
And the raving reviews on Amazon are testament to the fact.
That's one big reason I decided to incorporate into this list of the best universal remotes that work with Fire TV and Fire TV Stick.
You have QWERTY on the back and the front contains the usual remote buttons you would expect on a remote of an entertainment unit.
Another key factor that makes the remote stand out is its ability to navigate as a mouse by waving it in the air.
Getting used to the feature may take some time but once you are well versed with it, I think you will quite enjoy it and will find yourself moving across the apps on your display screen and clicking on them using the OK button.
Slideclick
Sale
Sideclick Remotes SC2-FT16K Universal Remote Attachment for Amazon Fire TV Streaming Player
Slim universal remote attachment for Amazon fire TV streaming player.Sideclick is compatible with IR remotes.
Control the basic functions of your tv, receiver, sound bar, blu ray and Amazon fire TV all-in-one
Easy to program using ir learning technology (learns from your existing device's remote)
Sideclick's patent pending clip-on design allows you to maintain fire tv's voice search
Amazon fire TV player remote not included;Compatible with Echo Voice Remote
I learnt this in engineering that innovation isn't always about the flashy stuff.
Innovation essentially means how can you tackle a visible problem using simple means.
The sliding side-on is very well received by the users of Fire TV and most of them happily report that it is doing everything they expect out of it and more.
Comparing with other universal remotes we discussed here in this list like the Logitech Harmony, Slideclick is obviously simpler and more budget friendly.
Simple, of course, because it doesn't need any kind of hub to store and translate different input signals.
Another subtle but significant aspect to the Slideclick remote is that it doesn't make you learn a completely new set of buttons for your favorite streaming device.
It uses IR technology to reprogram itself using the remote that you are trying to replace.
And this is how you set it up.
Press the top button to initialize the pairing mode indicated by an LED that turns solid red.
Hold down the button you wish to pair for a moment.
Take your existing remote, point it at Slideclick from about an inch away and then press the particular button who function you wish to replicate.
Worth mentioning here that Slideclick got its initial kick from Kickstarter as well.
One reason for its success is of course its simplicity.
A simple side on that basically takes the remote you already have like the Fire TV remote and makes it more intelligent.
Worth your bucks if it appeals to you.
Sofabaton U1
Sale
SofaBaton U1 Universal Remote with OLED Display and Smartphone APP, All in One Universal Remote Control for up to 15 Entertainment Devices, Compatible with Smart TVs/DVD/STB/Projector so on
【U1 Universal Remote & Replaces 15 Other Remotes】Our unique remote control support 500,000+ devices from 6000+ brands, the database will update as new devices come out, you don't need to worry about the newest device doesn't match. Both compatible both IR and Blutooth, Not support Wireless or Wifi (Such as Ruku Stick). Say goodbye to that jumble of remotes once and for all
【App One-Touch Set Up】SofaBaton customized smartphone APP, one-button settings, no need to enter complex code to pair. Simple control for the whole house only by one remote, ditch all your complex remotes, just one remote for you. Compatible with / Ruku/ Kodi and other smart TV、STB 、Projector、DVD、AV Receiver and so on
【OLED Display & Motion-Activated Function】The bright color OLED screen directly displays the current status and convenient for switching different devices. The motion-activated feature can automatically adjust the remote control brightness and save energy to gain longer battery life. A unique wheel design can easily switch devices just with a simple scroll. You must own this universal U1 remote!!!
【Multiple Commands by One Macro Button】With one macro button push, it can output multiple commands. How excited when you just press a button and it can implement a series of operations one or between different remotes. And you can also customize the start time, for example, if you want to open your TV firstly and then turn on your set-top box after 5 seconds
【After Service】SofaBaton offers 12 months warranty for exchange or refund service. If there are any problems, please feel free to contact us via the customer service email enclosed or call us for the highest quality and outstanding customer support. And we will provide you with instructions or specific video steps or other detailed solutions within 24 hours 🙂
When you look at other high-end universal remotes that we have discussed in this list, the Sofabaton U1 looks like an interesting pick.
Reason being it is capable of providing most of the features offered by the premium options at a fraction of the cost.
It isn't perfect by any means but I have to say it's good enough to be your universal remote that won't attract too many complaints.
The SofaBaton U1 can be very easily programmed for deployment using the SofaBaton App and thereafter pairing the device to your smartphone using Bluetooth.
Once you have done that you can choose your TV, sound bar etc through your app.
Once you have selected everything your smartphone will then synchronize everything to the SofaBaton.
Once you have setup all your entertainment devices you can switch between them with the help of the list you see at the top of the remote.
I have heard many users reporting that Sofabaton database doesn't include their particular device. But Sofabaton updates its database fairly regularly and quickly.
Chances are all missing devices will find their place in the list before you know it.
The Sofabaton U1 also supports macros which basically means you will be able to perform multiple functions using the same button.
For example, if you successfully setup a macro, you can possibly turn your stereo and TV on adjust the volume.
Very helpful if you find yourself repeating one or more functions over and over again.
While setting up the remote is fairly easy, setting up macros isn't especially if you aren't tech savvy.
However, if you are willing to learn or ignore it, I can't recommend the Sofabaton U1 enough.
Cetus Play App
I have run out of remotes to recommend :P, at least the good ones.
So, I wish to leave you this list of the best universal remotes for Amazon Fire Tv and Fire TV by not recommending one. Haha.
So, here is a universal remote smartphone app for ya.
The app basically turns your smartphone into a universal remote and can come in handy at time when you have misplaced the remote.
The CetusPlay app boasts its compatibility domain that incorporates a huge multitude of devices including of course Fire TV, Fires TV stick and your cable box as well.
Of course, you wouldn't get all the features that we discussed in some of the discreet universal remote packages that we have discussed so far, but the app is easy to use and keeps things pretty simple.
An important UI feature cherished by many users is the "Dpad mode" which is basically an emulation of your typical universal remote.
CetusPlay also includes the mouse mode where you can basically use your phone as a mouse on the TV.
Apart from the different modes another feature that I think will come in handy is the CetusPlay floating widget.
You will be able to do other tasks on your smartphone and can quickly switch to the remote if and when needed.
The free version does come with ads however, you can opt out of them by using the paid version which you can get for a one time pay of $5.99.
In Conclusion,
With that I hope I have answered what universal remotes work with amazon Fire TV and Fire TV stick aptly and appropriately.
We started with clarifying whether there are any universal remotes that work with Fire TV and Fire TV stick.
Once we had the necessary clarification, I relayed the top 10 best universal remotes for Fire Tv and Fire TV stick that you can get your hands on right now.
If you have any other comments, queries, feedbacks regarding what you have read thus far, don't be shy let me know in the comments section.
Before you go, why don't you subscribe to the blog and the accompanying YouTube channel for awesome content like this.
I will be very grateful if you do.
Take great care of yourselves and I will see you in the next one.
Bbye 😊