Screens today have developed so much when it comes to viewing technology.
I distinctly remember using one of my first laptops, a dell Inspiron i5 15R and I couldn't see anything the moment some bright light fell on it.
I was particularly annoyed during winter days when I wanted to work under the natural warm sun.
Things have changed quite a bit since then. I thought I was just complaining. 
How can a screen even show anything clearly in bright light?
As it turns out, the complaint wasn't a complaint. It was a question that needed an answer. And technology today has found it.
In this article, let us discuss what TV technology is best for bright rooms.
You want a TV with excellent reflection handling and brightness levels for bright rooms. QLED TVs are your best bet for brightly lit rooms because they usually offer brightness in the range of 600-2000 nits.
I don't need to tell you that picking a TV, albeit for a bright room, isn't as simple as that. You must consider several other factors, as getting a TV is a relatively significant investment.
In the upcoming sections, I will make everything super simple for you.
We will first discuss what factors to consider before picking a TV for a bright room in detail. Afterward, I will give you my recommended best TVs for a bright room.
All being said, by the time you have finished reading the article, you will be knowledgeable enough to pick the best TV suiting your needs.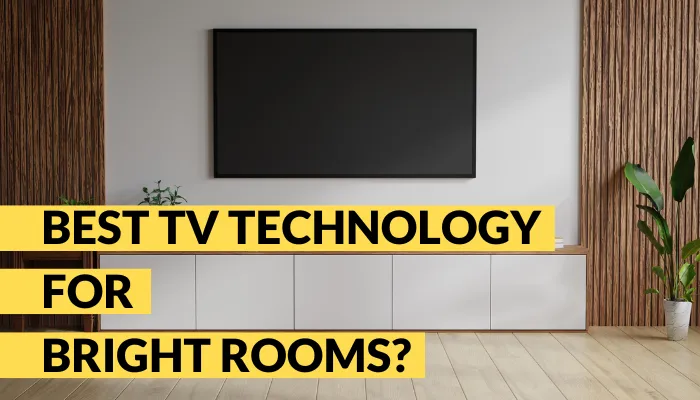 How to Choose the Best TV for Brightly Lit Rooms?
Before recommending the best TVs for bright rooms, I want to give you the knowledge you can use to pick the suitable TV.
While I genuinely believe you will resonate with my choices, I still wish to give you the tools to choose yourselves.
If you quickly wish to look at my recommended options, here is the table that relays all the options neatly.
Title
Samsung 4K QLED Terrace Series
Preview
Highlight
Overall Best TV for Bright Rooms
Best OLED TV for Bright Rooms
Best TV for Bright Rooms on a Budget
Best Cheap TV for Bright Rooms
Preview
Highlight
Overall Best TV for Bright Rooms
Title
Samsung 4K QLED Terrace Series
Preview
Preview
Highlight
Best OLED TV for Bright Rooms
Preview
Highlight
Best TV for Bright Rooms on a Budget
We will discuss each option in more detail in a subsequent section so that you can know why I picked them.
Let's go ahead and learn how to choose a TV for bright rooms.
Display Technology
The most crucial factor to consider when picking a Tv for bright rooms is what is its display technology.
LED TVs form the majority in the market and have been around for a long time.  Slowly but surely, OLED and QLED panels are becoming popular.
They come at a higher price point, but the viewing experience they offer, among other technical factors, makes them worth it.
For bright environments, you must always prioritize QLED panels over OLEDs because QLED TVs have higher peak brightness than OLED TVs.
QLED panels use quantum dots that help create a wider color gamut.
QLED TVs are more suited for brighter environments because they can take brightness levels from 600 to 2000.
Reflection and Glare Management
If you wish to keep your TVs in bright environments, they should be able to manage reflection and glare from bright lights and windows.
To a great extent, the glare and reflection handling capacity depends upon the screen finish. 
Screen finishes are of three types, glossy, semi-glossy, and matte. Matte is best at handling reflection and glare, but the TV with a matte finish will limit you on advanced screen features.
So, there are only two remaining options.
Semi-glossy screens fight glare better than glossy screens and perform well in mixed usages.
TV Size
What TV size you should get mainly depends on the layout you want and how big your room is. 
But what is important here is that every TV has a minimum viewing distance that you need to take into account to have the best viewing experience and reduce the strain on your eyes.
So, consider your room size before finalizing the screen size.
A small room with a big TV isn't aesthetically pleasing on top of the discomfort you may experience while watching.
The reverse is equally true; you don't want a tiny TV in a big room.
Colors and Brightness
If you want a TV to work well in a bright room, it should be able to stretch its brightness.
Good peak brightness is essential to counter the brightness falling on the screen. The recommended brightness for TVs that will become a part of a bright room is 1200-1500 nits.
Screen Resolution
What TV resolution to choose depends more on use case than whether you want to keep the TV.
Still, if you already have a bright room, you want a resolution that offers crisp, sharp, and detailed images. 
Therefore, I recommend getting a 4K TV for bright rooms owing to their superior image quality.
These days 4K TVs are standard in the market.
In addition to offering sharp image quality, they resist glare. 
Once again, what resolution to pick isn't written in stone, but you should never choose a lower resolution for big-size TVs. It is a mistake you will soon regret.
Best TVs for Bright Rooms
Now that we have learned how to choose the best TVs for bright rooms let's go ahead and look at a few of the best ones out there.
Depending on your situation, there may still be certain factors to consider.
I will include TVs by considering the most common factors you may incur while choosing.
If you have a particular need, let me know in the comments, and I will recommend one.
1. Samsung QN90B QLED
Overall Best TV for Bright Rooms
Sale
SAMSUNG 43-Inch Class Neo QLED 4K QN90B Series Mini LED Quantum HDR 24x, Dolby Atmos, Object Tracking Sound+, Anti-Glare, Ultra Viewing Angle, Smart TV with Alexa Built-In (QN43QN90BAFXZA, 2022 Model)
HANDPICKED BY AMAZON: They did the research so you don't have to.Image Aspect ratio:16:9.Controller type:Voice Control.Frequency : 60 hertz.Standby Power Consumption : 0.5
QUANTUM MATRIX WITH MINI LEDS: Brilliant details shine even in daylight; Powered by a huge grid of Samsung's ultra precise Quantum Mini LEDs, it takes exact control of the individual zones of light in your picture for breathtaking color and contrast
QUANTUM HDR 32X: Every detail bursts to life with realistic contrast and brilliance; With HDR 32X and its wide range of vivid shades of color, you'll discover all the nuances in the latest movies and shows made for High Dynamic Range
NEO QUANTUM PROCESSOR WITH 4K UPSCALING: See all you enjoy upscaled to spectacular 4K resolution; Scene by scene, the Neo Quantum Processor 4K uses AI based deep learning to analyze your content and optimize it to full 4K
ANTI-GLARE WITH ULTRA VIEWING ANGLE: You've got the best view from every seat; Designed to reduce glare and deliver brilliant color across your screen, Ultra Viewing Angle makes sure you've got amazing picture quality, from virtually anywhere in the room
My recommendation for the best TV for a brightly lit room is the Samsung QN90B QLED TV. It is a 4K TV loaded with excellent features that make it a top choice for anyone looking to place it in a brightly lit room.
It has excellent reflection handling and uses a mini LED backlight that allows the TV to reach excellent brightness levels.
The TV comes with built-in Tizen OS, allowing you to stream your favorite TV Shows and Sports easily. 
The viewing angle is extra wide, meaning it makes up for a great choice when it comes to viewing TV shows and sports in a wide seating area.
The image consistency is fantastic for the wide viewing angle.
2. Samsung 4K QLED Terrace Series
Best TV for Outdoor Use
Sale
What if you want a TV that you can use outdoors? 
Most of the options we are discussing are TVs you can use in a bright room. But if you wish to use a TV outside, like in an outside enclosure or an open cafe, you should seriously consider Samsung Terrace.
It is one of the brightest TVs on the market, which is apt because the TV was specifically designed for purposes that involve outside use.
The reflection handling capacity of the screen is fantastic, and the TV looks terrific in an outdoor setup.
The TV is better for outdoor use also because it is rated to have an IP55 rating for water protection. The TV runs on Tizen smart platform, and therefore you don't have to worry about connecting an extra box to stream your favorite media content.
The speakers are decent and won't require connecting extra audio machinery to generate good-quality sound.
The issue is that the TV is more expensive than the QN90B, so pick this one if you are sure you want to use it outside. For bright-lit rooms, I still recommend going with the QN90B.
3. LG G2 OLED EVO
Best OLED TV for Bright Rooms
LG 55-Inch Class OLED evo Gallery Edition G2 Series Alexa Built-in 4K Smart TV, 120Hz Refresh Rate, AI-Powered, Dolby Vision IQ and Dolby Atmos, WiSA Ready, Cloud Gaming (OLED55G2PUA, 2022)
VOICE CONTROL: Use your voice to control your TV and connected devices with built-in support for Google Assistant, Amazon Alexa, Apple AirPlay, HomeKit, and many more.
OLED EVO GALLERY: Our self-lit OLED pixels create a picture quality like no other in our new OLED evo Gallery Edition—with the highest contrast, perfect black and the brightest colors ever seen in an LG OLED
a9 GEN5 AI PROCESSOR 4K: Make the impossible possible with our latest a9 Gen5 AI Processor 4K, engineered exclusively for LG OLED to automatically adjust your settings to improve picture and sound qualities based on whatever you're watching
HOME CINEMA: Get in the action the way directors intended with Filmmaker Mode—and enhance every moment with Dolby Vision IQ and Dolby Atmos for the ultimate home theater experience
ULTIMATE GAMING: Be at the top of your game with NVIDIA G-SYNC, FreeSync Premium and VRR to experience real-time action—plus, the LG Game Optimizer and 4 HDMI 2.1 ports to get you (and keep you) in the action
If you are married to the idea of experiencing an OLED panel, it is only logical for me to suggest a good one.
For bright rooms, the LG G2 is the best OLED TV you can have. LG introduced the G2 series this year, and one of the highlights is how the EVO panel improves the peak brightness of an OLED display.
LG G2 is one of the brightest OLED TVs in the market and is even brighter than some QLED TVs.It can touch a peak brightness of 1100 nits in HDR scenes.
Some other features of importance when it comes to usage in bright rooms are perfect black levels and near-perfect glare management.
The 4K UHD screen offers crisp, lifelike images, a wide range of colors, and near-infinite contrast, which makes the viewing experience even better.
4. Hisense U6H
Best TV for Bright Rooms on a Budget
Sale
Hisense ULED 4K Premium 55U6H Quantum Dot QLED Series 55-Inch Smart Google TV, Dolby Vision Atmos, Voice Remote, Compatible with Alexa (2022 Model), Black
4K ULED TV: Hisense's proprietary ULED technologies boost color, contrast, brightness, and motion. This suite of patented hardware and software technologies delivers an engaging and completely unique picture that can only be delivered by Hisense.
Quantum Dot Wide Color Gamut: Quantum Dot produces purer, richer, more brilliant and accurate colors than a regular LED TV. Creating over a billion color combinations bring vibrant images to life in a way non QLED tvs can't.
Peak Brightness / Full Array Local Dimming Zones: The average TV is 250-350 nits. Anything over 500 nits is extremely good. This television is up to 600 nits peak brightness across up to 48 local dimming zones.
Dolby Vision and Dolby Atmos: Dolby Vision HDR picture and Dolby Atmos sound are cinema technology for your home. They provide amazing realism you can see and hear in every scene.
Google Assistant and Works with Alexa: The Google Assistant is built into Google TV. Tell it to turn on the lights, change the thermostat, play a video, and much more. This TV also works with Alexa through any of your Alexa-enabled devices.
Till now, we have seen TVs perfect for bright rooms, but perfection comes with a price.
But you don't necessarily need a dent in your pocket to have a good TV viewing experience under the light. 
The best TV for bright rooms if you want one under budget is the Hisense U6H.
The Hisense U6H doesn't have the mini-LED backlight like its higher modelHisense 55U8H QLED U8H Series Quantum 4K ULED Mini-LED 55-Inch Class Google Smart TV with Alexa Compatibility, Quantum Dot, 1500-Nit HDR10+, Black, but it still works well for a brightly lit room.
The reflection management and peak brightness are really good for a moderately lit room. It doesn't have the specifications as some of the other options we have discussed owing to the budget.
For instance, it is limited to a 60Hz refresh rate and doesn't support HDMI 2.1. 
You can watch your favorite TV shows during the day in bright light, but because of narrow viewing angles, you probably have to view it from the front for the best experience.
5. TCL S455 TV
Best Cheap TV for Bright Rooms
TCL 50" Class 4-Series 4K UHD HDR Smart Roku TV – 50S455 2022, Black
Stunning 4K Ultra HD: Enjoy breathtaking 4K movies and TV shows at 4 times the resolution of Full HD. Plus your favorite HD shows, movies, and sporting events are enhanced to near Ultra HD resolution with advanced 4K Upscaling..Image Aspect ratio:16:9.Stand Separation Distance : 37.8". Output Power : 10W + 10W. Premium Audio : Dolby Digital Plus..Output Power : 10W + 10W. Headphone Jack : 1
High Dynamic Range: HDR delivers bright and accurate colors for a lifelike viewing experience.
1. Thousands of Streaming Channels: Enjoy the over half a million movies and TV episodes available to stream plus sports, news, music, kids and family, food, science and tech, fitness, foreign language and so much more.
Stream free TV, live news, sports, movies, and more: Start streaming free TV right from your home screen with Featured Free and The Roku Channel. Browse 150+ free live channels with the Live TV Channel Guide to find what to watch next.
Easy Voice Control: Find movie titles, launch or change channels, even switch inputs, using just your voice. Access to voice control feature available through the Roku mobile app, compatible third-party voice assistant devices and voice-enabled remote controls that can be purchased separately. Works with Siri, Alexa and Hey Google.
The price for the best ultra-budget option for the best cheap TV for bright rooms goes to TCL S455. 
Once again, you will miss out on some of the premium options of a high-end TV, but it is a decent TV with good reflection and glare handling.
It can handle a lot of natural light in peak brightness, making it the perfect TV for spaces like the kitchen or a spare bedroom. 
The incredible picture quality is due to an excellent contrast ratio, gradient handling, and upscaling.
Roku OS is built in, so you can easily access your favorite streaming services. The TV misses out on some advanced features, especially when it comes to gaming, like HDMI 2.1 and variable refresh rate.
Honorable Mentions & Conclusion,
When choosing a TV for a brightly lit room, as you have learned, there are quite a few options to consider.
With the article, I highlighted the points you need to keep in mind while shopping for a TV you can use in bright environments.
Of course, tech today is so vast that there are so many options available for any task you need fulfilling. It's true for TVs as well.
While the options I have relayed are the best in the listed domains, there are others out there.
Here are a few more options that are really good and missed the main list owing to minor factors here and there.
If you have other options that are worth it, let me know in the comments. If they hold, given the criteria, I may even include them in the list.
Also, let me know if you have any doubts, comments, or feedback regarding anything you read here on Yantraas.
Take care of yourselves, and I will see you at the next one!