One of the reasons why I picked electronics engineering over other options is that I have always liked experimenting.
From childhood, I have enjoyed opening stuff and seeing what's inside.
That meant fruits, toys, pens, watches, gadgets, my mom's makeup box; you name it.
And most of the time, as you might have guessed, I had to face the consequences.
A few days back, I was browsing a forum on networking where someone was describing how their boss got angry at them for experimenting with a different code base.
And I thought, hey, that isn't correct, and I even advised him to create his own homelab.
One thing led to the other, and among other things, I found myself recommending him the best server racks for his new homelab.
Both of us were happy because he got what he needed, and I got an idea to write on.
So peeps like him looking for a space to experiment with their projects, this article on the best server racks for homelab will be very beneficial.
In the coming sections, we will explore different facets of what makes a good server rack.
But for the experienced ones, here is a glance at the best server racks for homelab that we will discuss.
Title
StarTech 12U AV Rack Cabinet
StarTech12U 19" Open Frame Server Rack
NavePoint 12U Wall Mount Network Server
EchoGear Open Frame Rack for Servers & AV Gear
Preview
Highlight
Best Overall Server Rack for Homelab
Best Open Frame Server Rack
Best Wall Mounted Server Rack for Homelab
Best Server Rack for High Density Servers
Best DIY Server Rack for Homelab
Title
StarTech 12U AV Rack Cabinet
Preview
Highlight
Best Overall Server Rack for Homelab
Title
StarTech12U 19" Open Frame Server Rack
Preview
Highlight
Best Open Frame Server Rack
Title
NavePoint 12U Wall Mount Network Server
Preview
Highlight
Best Wall Mounted Server Rack for Homelab
Preview
Highlight
Best Server Rack for High Density Servers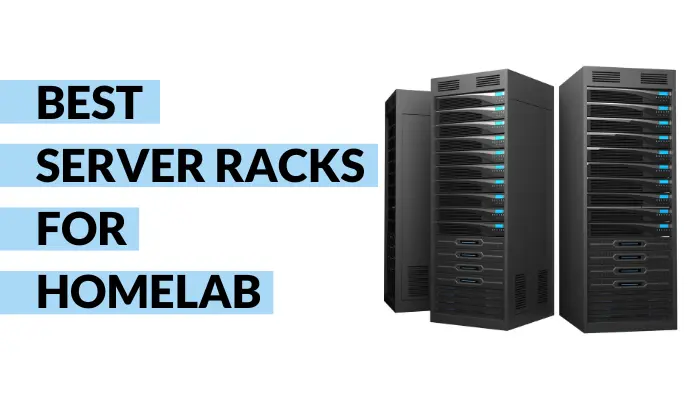 What is Homelab?
Most of you reading this already know what homelab is. Let me quickly explain what a homelab is to put everything into context.
A homelab is a space in your home/office where you can develop and test any technology without fearing data loss or downtime. You can use a homelab to learn networking practically, build custom hardware, and create servers that accomplish various tasks.
In other words, homelab is a playground for geeks. 
Experienced developers use their labs for virtualization, network testing, and software development.
There is no limit to what you can do with a homelab. 
You can use it to create a simple computing unit, or you can use it to create a complex server with multiple devices, switches, and access points.
You will only be limited by your hardware capacity, which you can and probably will upgrade.
So a lot of hardware comes together to create a functioning homelab.
All of those hardware components are placed in what you call a server rack. You can make your own server rack if you want. 
DIYing a server rack means you are already well aware of your needs. 
For beginners and intermediates, I recommend getting a pre-assembled server rack.
You will learn better, and in the long run, it will save you time and money. 
Before we go ahead and see the best server racks you can use for your homelab, let's understand what makes a good server rack and how to choose them.
How to Choose the Best Server rack for a Homelab?
You need to consider these factors when hunting for a server rack.
Enclosure Type
Considering the design, there are two types of server racks broadly. Cabinet type and Open-frame type. 
Cabinets, as the name suggests, are enclosed units and are preferred if you want your devices to be more secure. Most of them come with a lock and key arrangement.
Cabinet frames can have ventilation issues and can hinder proper airflow. But most good manufacturers incorporate arrangements like top fans and perforated designs that help airflow.
The other type of server rack is the open-frame type. Open-frame server racks, as you will see, are relatively cheaper. Airflow is fine here, but your server arrangement won't be as secure.
But for most beginners who wish to create a homelab in their homes, open-frame racks will be perfect. You probably are okay with having a less physically secure server rack in your personal space.
Size
You need to consider how big of a unit you will need. You must choose one that fits the space that you have available. 
19-inch and 23-inch are the most common server rack sizes. In the options you will see below, sizes are mentioned as U. The letter U represents the height of Rack Units(RU).
A 19-inch rack is best for most beginners and fits in most places. 23 inches and beyond will require more space.
Weight
Weight is another significant factor to consider when selecting server racks. You need to be aware of the weight of the server rack itself and also the weight that the server rack can withstand.
With server-grade equipment, things can get very heavy very fast.
Most manufacturers will list both weights parameters in the product listing. But sometimes, you may need to look at the product's spec sheet.
Other Features
Apart from those core features, there are many miscellaneous features that manufacturers sometimes taunt.
And these features can play a significant role is deciding the server rack's price point.
Some of these features are 
Door type
Device types that can be mounted on the rack.
Wheels on the rack
Cable management features
Included fans for airflow management
Lock and key on the door for security
Powerstrip for devices
Not all of these features will be essential for you. You will have to take a call on what features you can or can't live with.
Best Server Racks for Homelab
As I said, a server rack is equipment where all your hardware will come together.
This means your server rack will be the junction where all equipment, like switches, wireless access points, routers, webcams, IP cameras, etc., will rest.
As you must have guessed, when selecting a server rack, quite a few factors need to be considered.
Considering all the factors and making sure I choose at least one option that will appeal to anyone reading this post, here are my recommended server racks.
1. StarTech 12U AV Rack Cabinet 
Best Overall Server Rack for Homelab 
StarTech.com 12U AV Rack Cabinet - Network Rack with Glass Door - 19 inch Computer Cabinet for Server Room or Office (RK1236BKF)
KEEP EQUIPMENT COOL AND SECURE: This AV rack cabinet locks tight while abundant venting promotes passive cooling to keep your server room equipment at an optimal temperature
MAXIMIZE MOBILITY: With heavy-duty casters included, this easy to transport and quick-assemble 12U network rack is ready to move when you are
CONVENIENT ACCESSIBILITY: With its dark glass door, this audio video cabinet allows you to view your equipment even while locked
STANDARD COMPATIBILITY: This 19" computer rack cabinet is compatible with standardized rack-mountable equipment such as servers and KVM switches, and has an adjustable mounting depth of up to 29"
THE IT PRO'S CHOICE: Designed and built for IT Professionals, this rack cabinet is backed for life, including free lifetime 24/5 multi-lingual technical assistance
Start tech is one of the leading server equipment manufacturing companies. This isn't the only option from startech that you will see on this list.
The server rack is easy to assemble and disassemble, and the packages come with everything you need to set it up.
The rack is robust and can see multiple upgrades since it has a total load capacity of 800 kg. (1760 lbs.).
The construction is solid, the casters are sturdy, and the rack is deep enough to fit full-length servers.
It comes in all standard sizes, but Amazon hasn't made all of them accessible on one page. Other sizes are relayed in the description.
One issue that I have seen people having issues with is the glass front door. It gives the server rack a cool look, but I can see some people have issues with it owing to an obstructed airflow.
2. StarTech12U 19″ Open Frame Server Rack 
Best Open Frame Server Rack for Homelab
Sale
StarTech.com 4-Post 12U Mobile Open Frame Server Rack, 19in Network Rack with Wheels, Rolling Rack for Computer/AV/Data/IT Equipment - Casters, Leveling Feet or Floor Mounting (4POSTRACK12U)
ADJUSTABLE DEPTH: 4- Post 12U open frame server rack with 4 vertical rails and adjustable mounting depth 22" to 40" (56cm to 101cm); Compatible with various servers / switches / data / AV and other IT equipment; EIA/ECA-310-E Compliant
EASY ASSEMBLY: Mobile network rack with easy-to-follow assembly instructions and online video; Compact flat-pack shipping to avoid damage and facilitate installation; Only 25in (64cm) high, ideal for utility/server closets or narrow home/office spaces
COLD ROLLED STEEL: Durable 4 Post 19" small open frame rack designed for ventilation with 12U mounting height and 1200lb (544kg) weight capacity (stationary); 3 install options included: casters, levelling feet, or base-plate to secure rack to the floor
HARDWARE INCLUDED: Rolling computer/data rack includes cage nuts and screws to mount equipment, easy to read Units (U) and depth adjustment markings, cable management hooks for organization, and required assembly tools
THE IT PRO'S CHOICE: Designed and built for IT Professionals, this 12U rack is backed for 2-years, including free lifetime 24/5 multi-lingual technical assistance
This open-frame server rack from star tech again should suffice for people who may have an issue with closed front glass doors.
Thankfully, the page is properly categorized, and you can choose the size you need.
Once again, star tech ensures that the assembly and disassembly of the unit is easy.
The individual parts are high quality, and when they come together, the rack stands sturdy. 
It has a total load capacity of 1200 lbs / 544kg.
The rack is deep and very capable of supporting server-depth equipment. 
Apart from servers, it can also be used to set up UPSs, patch panels, switches, and similar networking or AV equipment.
I wish the installation instructions were clearer, as many first-timers may have issues setting it up.
3. NavePoint 12U Wall Mount Network Server Cabinet 
Best Wall Mounted Server Rack for Homelab
NavePoint 12U Wall Mount Network Server Cabinet for 19" IT Equipment, A/V Devices, Tempered Glass Door, Removable Side Panels, Locks, Fan, 450mm Depth
DURABLE BUILD: Constructed from high-quality Cold Rolled Steel, the NavePoint Consumer Series 12U network cabinet boasts a sturdy, welded frame. Fitting EIA standard 19" networking equipment, this server cabinet confidently supports up to 110 lbs, providing a resilient base for your vital IT gear and equipment
CONVENIENT DESIGN: This 12U cabinet features a reinforced, heat-treated, tempered glass front door with a security lock. Perfect for applications requiring both security and accessibility, its compact design of 17.72"L x 21.65"W x 24.42"H offers a practical solution for space-constrained settings.
EASY & CUSTOMIZABLE EQUIPMENT SET UP - The 12U IT cabinet, with removable side panels and security locks, offers customization at its finest. Whether it's for an efficient device or cable management, this data cabinet ensures secure, adaptable configurations that suit your networking server requirements
ENHANCED VENTILATION & SECURITY - Built-in fans and flow-through ventilation work to prevent overheating, ensuring optimal operation of your equipment. The reinforced, lockable tempered glass front door not only boosts security but also facilitates easy monitoring of installed equipment.
SAFETY & COMPLIANCE - Compliant with CE, EIA/ECA-310-E, HIPAA, NEMA Rated Type-1, PCI. Compliance with these standards ensures that the cabinet meets specific quality, safety, and environmental requirements
Made using the server cabinet by NavePoint is versatile enough to incorporate equipment like IT servers, routers, switches, and AV/video equipment.
One key reason why I included this server rack is that it is very space efficient. 
The compact design allows for free standing or wall mount to maximize the use of available space. 
In addition to being space efficient, the server rack design allows for excellent airflow. The 12U server has a top fan that increases airflow and prevents equipment from overheating.
The assembly is straightforward and intuitive. 
The server rack comes with a plexiglass front door that has a lock. So you will be able to see the lights inside while at the same time, the door prevents unauthorized access. 
4. Tripp Lite 42U
Best Server Rack for High-Density Servers
Sale
Tripp Lite 42U Standard-Depth Server Rack Enclosure Cabinet with doors & side panels, 3000-lb. capacity, Black (SR42UB)
SmartRack enclosures are designed for secure, high density server and networking applications in IT environments
42U Smart Rack enclosure with doors and side panels
Adjustable mounting rails with easy view depth index and toolless mounting slots for PDUs and vertical cable managers ; Locking, removable, reversible front and rear doors
Weight rating of 3000 pound stationary and 2250 pound rolling; Unit Dimensions : 78.5 x 23.63 x 43 inches
Meets all enclosure requirements towards PCI DSS (Payment Card Industry Data Security Standard) compliance
If you are looking for a server rack that can host servers in high-density, IT enterprise-type environments, I recommend giving this server rack a chance.
The enclosure has a very professional, very premium feeling to it. 
It's effortless to set up and maintain, and some features are very impressive.
Features like top-panel cable routing ports, perforated doors to promote efficient airflow, adjustable mounting rails, toolless vertical PDU mounting, etc., make it a very worthy choice for spaces that host a lot of servers.
The rails have square mounting holes and can support up to 3000 pounds of equipment.
The ease of access for the rack is just excellent. The side panels are mounted top to bottom, so if you wish to access any space in the rack, you can take off one-quarter and access it.
The best part is that the features it comes with the server rack is priced very decently.
Like startech, Tripp lite is also an excellent manufacturer of server racks and similar network equipment.
5. EchoGear Open Frame Rack for Servers & AV Gear
Best DIY Server Rack for Homelab
Sale
ECHOGEAR 15U Open Frame Rack for Servers & AV Gear - Wall Mountable Design Includes 2X Vented Shelves, 25x Rack Mounting Screws, 4X Leveling Feet, 4X Shelf Stops, & 2X Securement Straps
Includes all the goodies you need to rack 'em up: Entire 15U open frame rack structure, 4x leveling feet, 1x 1U vented shelf (15.12" deep), 1x 2U vented shelf (18" deep), and 25x rack mounting screws. Is it Christmas in here or is that just me?
Open design and included vented shelves optimize air flow, keeping even today's hottest, high-end networking and AV components cool.
Assembly is required, but it's simple. With all the included hardware & witty instructions, you'll have your rack ready for servers & networking gear in under 20 minutes.
This rack's 20.24" deep design means it's perfect (and practically begging) for your networking, AV and rackmounted components up to 19" deep.
It's ready to hang! (On the wall, we mean.) Wall-mounted or standing strong on included leveling feet, this rack's versatile design is ready to take on your setup... whatever that may be.
If you are set on a DIY experience for setting up a server rack, the EchoGear open frame rack is a perfect choice.
Earlier in the article, I mentioned that a total DIY experience setting up a server rack should only be limited to people with experience with custom builds.
But this server rack is perfect for you if you are dead set on building something almost from scratch.
One issue I have seen continuously is that the available screws will need the assistance of a power tool to fasten to the rack. 
This is because the powder coating on the framework screws makes it challenging to put the supplied screws in place.
The fully assembled unit is a solid rack if you can put it together.
The rack is a perfect square from the top down. 
This means you can use the side/front/back alternatively to put in devices in a way that you have better access.
So for a homelab without a huge need for professionalism, this is a fantastic rack.
I wish they had more size options. The maximum that you can go right now is 20U. Hopefully, that will change in the future.
Honorable mentions
These aren't the only options available in the market, but they are certainly the best ones.
Here are some more options to look at if you want more options or different features.
Conclusion
Everyone has a part in us that wants to experiment. As a matter of fact, all innovation that you see all around you is a result of someone daring to stretch their borders.
If you are someone who belongs to the 'lifelong learners' academy and digs technology at the same time, you need to have a homelab.
It's an amazing way to develop, test, and learn technology. You will find tutorials on the internet to get you started once you have a homelab setup. r/homelab is a good place to start.
And I think I have covered everything here for you to go ahead and get the best server rack for your needs.
Please let me know if you have any other queries in the comments. And hey, if you have an active homelab and are or are not satisfied with your server rack, share it with the world, too in the comments.
Take care of yourselves, and I will see you at the next one!
Bye!