In one of my previous articles, I said I think monitors are like these magical windows that open up a whole new world for you.
Well, if monitors are windows, keyboards and mice are your accessories with which you create, control, and access this world.
I am glad that I chose to start the article the way I did because the next context I am bringing up is gaming.
The very way games are created in this day and age, they literally create a world you can enjoy, customize and be the king of.
The question that I am addressing today is do external accessories impact how you experience gaming?
Or are premium products that have 'gaming' prefixed to them just a gimmick?
Previously, I have covered the balance between performance and marketing with products that have a gaming tag in them in the following articles.
Let's switch that discussion up to gaming keyboards now, So,
Are Membrane Keyboards Good for Gaming?
Truthfully, how good you will game depends entirely on you not the keyboard. But as far as experience is concerned, gaming or otherwise, mechanical keyboards do bring something to the table. This is attested by the fact that most people who switch to mechanical keyboards rarely come back to membranes.
Now what are the differences between a mechanical and a membrane keyboard, are mechanical keyboards worth the extra bucks, are there any budget mechanical keyboard options that you can look at? What are some good membrane keyboards that are just as good?
Answers to all these questions and more is what you are going to receive in the subsequent sections of this article.
So, stick till the very end as we are going to learn a lot of things together.
---
And while you do, here are a few more articles (they open in a new tab), that might enhance your knowledge given the context.
I like helping people with tech stuff, here is how you can connect with me directly.
---
Best Budget Mechanical Keyboards
Now as I said, while membrane keyboards do the same task as mechanical keyboards do, yet they are worlds apart.
We will discuss how membrane and mechanical keyboards are different in an upcoming section.
But in the meantime, if you are someone who is looking to switch to mechanical keyboards, here are the best mechanical keyboards to choose from.
Product
Premium
SteelSeries Apex Pro
Preview
Highlight
Best Mechanical Keyboard Overall
Best Mechanical Keyboard for Gaming
Best Budget Mechanical Keyboard
Best Mechanical Keyboard for Typing
Best Wireless Mechanical Keyboard
Best Compact Mechanical Keyboard
Premium
Preview
Highlight
Best Mechanical Keyboard Overall
Gaming
Preview
Highlight
Best Mechanical Keyboard for Gaming
Budget
Preview
Highlight
Best Budget Mechanical Keyboard
Preview
Highlight
Best Mechanical Keyboard for Typing
Preview
Highlight
Best Wireless Mechanical Keyboard
What Are Mechanical Keyboards?
I know most people reading the article know what mechanical keyboards are. But for those who are new to the world of mechanical keyboards let me describe them in simple yet precise terms.
Mechanical keyboards are computer keyboards that instead of having rubber membranes have discreet switches under each key. Because of the fundamental change in construction, these keys give tactile feedback upon keypress as opposed to the mushy feeling you have with membrane keyboards. The keypress response and tactile feedback make them excellent for typing and if chosen rightly for gaming too.
For me personally, I held back getting a mechanical keyboard for a very long time thinking what many people think.
What's the point when both membrane and mechanical keyboard do the same task.
Well, it took me just one mechanical keyboard to realize that I am never switching back.
They are in addition to finding use in typing are quickly becoming popular choices for gamers, programmers, and pretty much anyone who relies on consistent typing.
With new manufacturers entering the market, it's very easy these days to find a good mechanical keyboard.
All the options that I have listed above are chosen on the basis of factors that make up a good mechanical keyboard.
Importance of Switches
When it comes to mechanical keyboards switches are everything. You see the switches in a mechanical keyboard are independent entities. And as such, different types of switches can be manufactured that cater to different needs like gaming, typing, office use, or a mix of tasks.
While there are so many switch variants created these days, three are the most popular ones.
Red switches, blue switches, and brown switches.
When the context is gaming, red switches are usually preferred, although so much depends on personal preference.
Typists usually prefer the clicky sound that comes along with the tactile feedback provided by blue switches.
And if you are looking for something that combines the features of both worlds, brown switch mechanical keyboards are what you must look into getting.
Now is it written in stone that one particular switch type can only be used for one type of purpose? Absolutely not.
I know so many people who like gaming on blue switches. Similarly, many people just hate the clicky sound that blue switches create and exclusively use red switches for everything.
Brown switches from what I have been seeing are a healthy compromise between both worlds.
There are so many other switch variants that are created today taking into consideration user needs and technical parameters. Discussing all of them will take the article out of context.
But don't worry I have discussed mechanical switches in great details here.
Good Membrane Keyboards for Gaming and General Use
Okay, so people who for some reason still don't wish to get a mechanical keyboard, here are some of the best membrane keyboards that won't hurt your habit and are just as good.
Title
Runner Up
Razer Cynosa Chroma
Preview
Highlight
Overall Best Keyboard for General Use
Best Keyboard for Travel and Portability
Best Keyboard With Ergonomic Design
Most of us if not all, start exploring this crazy world of computers using a simple membrane keyboard.
I understand there are many who because they haven't used it may not be able to perceive the physical and structural differences between the two.
Here is how they look like.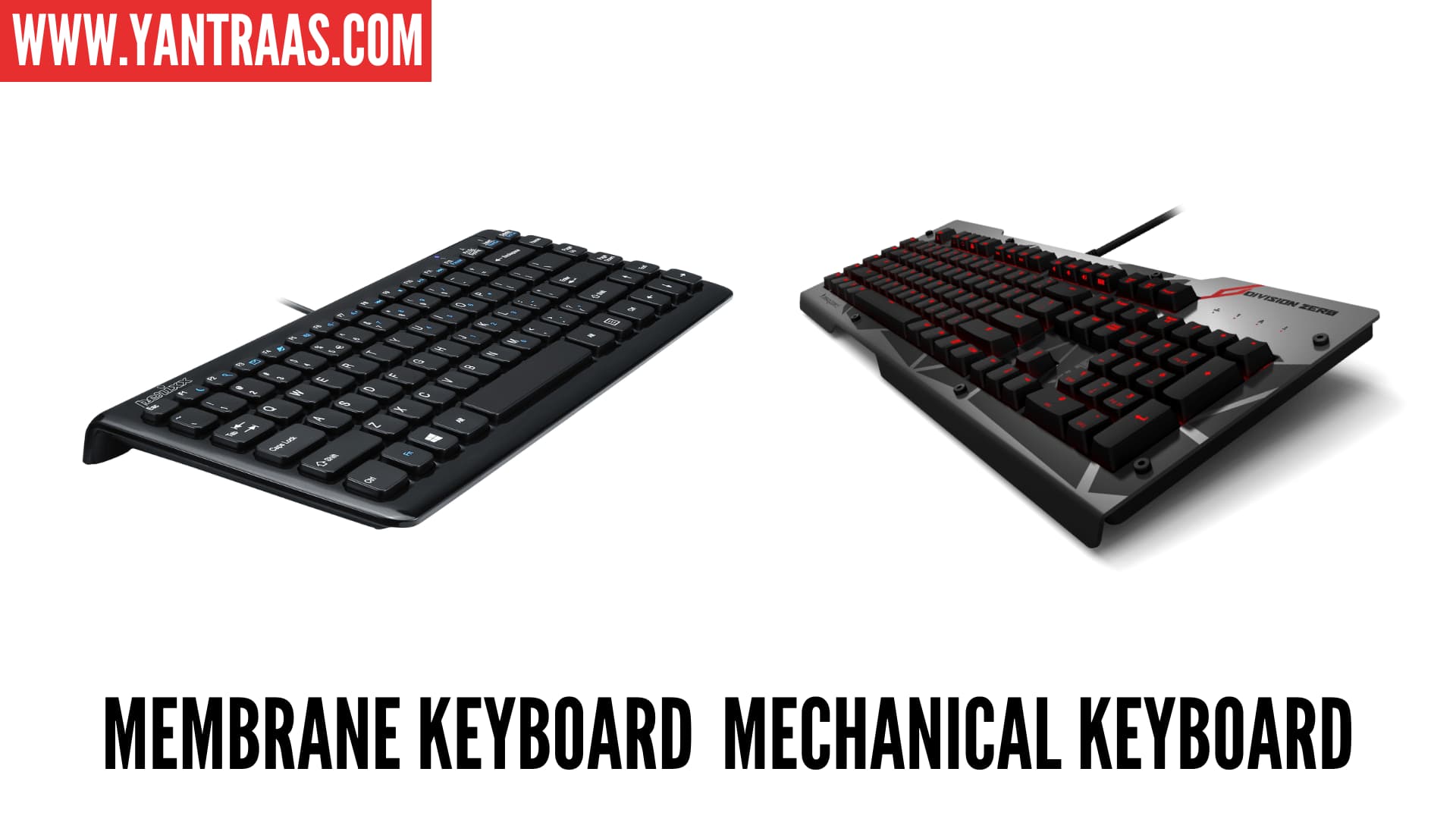 What Are Membrane Keyboards?
Membrane keyboards are those which unlike mechanical keyboards don't have discreet keys. True to their name membrane keyboards use a single rubber-like membrane beneath the keys which creates contact with the PCB underneath when you press the key fully.
More often than not you would have started with or maybe still are using a membrane keyboard. Membrane keyboards are simple, budget-friendly and if your demand isn't specific or extravagant, they do the task they are meant to do pretty effectively.
Plus, manufacturers are consistently trying to incorporate features such as tactile feedback (to the extent they can) into membrane keyboards.
Thus, if for some reason (like getting one for office) you don't feel the need to get a mechanical keyboard, the membrane keyboard options that I have relayed above are pretty good.
How Do Membrane Keyboards Work?
Okay, so let me very quickly explain to you how membrane keyboards work before switching to explaining what are some obvious benefits of using a membrane keyboard.
Whenever you press a key on your membrane keyboard, there is an electrical contact (circuit completion) between the surface keys and the underlying electronic circuit.
So how does the electrical contact happen?
A membrane keyboard is structurally configured to work with layers.
The bottommost layer is the one that has printed electrical pathways which will get completed when they receive metal contact on keypress.
When a key is pressed, the pressure pads under each key (membrane layer) travels through an intermediate hole layer and contact the printed (but incomplete) circuits below.
When the contact is made the circuit is complete and the generated electrical signal is decoded by the PC to see which key is pressed.
This image from Havit put my explanation of how membrane keyboards function into perspective.  
Benefits of A Membrane Keyboard
There are some obvious benefits of using a membrane keyboard.
If you are looking for a keyboard for office use, I don't think going the mechanical keyboard route is the way for you. Although that is changing, as mechanical keyboards with red keys(among others) offer a very quiet operation.
Still, for office use especially if you don't use keyboards rigorously, getting a membrane keyboard (a good one though) makes a lot of sense.
Membrane keyboards have a lot of manufacturing years behind them. All that experience and mass production means you will get membrane keyboards at much lesser price than a mechanical keyboard.
That and the fact that membrane keyboards can be created using simple materials also adds to the reduced cost.
When I got my first mechanical keyboard the first thing I said was, man, it's heavy.
Because of predominate metal construction and discreet switches mechanical keyboards tend to be heavier than membrane keyboards.
This of course is a problem if you travel a lot and want to carry a keyboard as well. And therefore, if for some reason you require a keyboard that you can carry along, membrane keyboards are what you need to get.
Membrane VS Mechanical Keyboard for Gaming
Alright then, what are the exact differences between a mechanical keyboard and a membrane keyboard?
This segment is going to be very important if you are looking to switch from a membrane to mechanical or looking to stay with membrane keyboards only.
So please read carefully and with attention.
The first and the most obvious difference that you will see when you switch to a mechanical keyboard is the experience.
With membrane keyboards, you get a mushy feeling when you press the key owing to the rubber membrane or layer beneath them.
When you press a key on a mechanical keyboard, the response or experience that you feel is generated by a spring-loaded switch. These spring-loaded switches actuate very smoothly on getting pressed and produce a very satisfying audible click.
The tactile feedback that you receive while using a mechanical keyboard is far superior to what you experience when using a membrane keyboard.
This is a very important point of distinction between mechanical and membrane keyboards.
Mechanical keyboards allow you to press multiple keys at the same time. Most good-quality mechanical keyboards are capable of detecting many different keypress events at the same time.
This is particularly important when you are playing games that require input combos to perform a special move. This will also come in very handy if you are a fast typer.
Therefore, for people like me who type a lot, I can't recommend a mechanical keyboard enough. In the absence of key rollover, chances are your keyboard will lag behind while you are inputting owing to limited processing.
One area where the membrane keyboards take the cake is affordability.
I discussed this at length that there are products and manufacturers that use the tag gaming to charge a premium.
With keyboards, I don't mind the cost all that much because you do get what you pay for. And I don't demarcate keyboards as gaming or non-gaming to be even more honest with you.
I know elite multiplayer specialists who use simple membrane keyboards and I know people having no interest in gaming use mechanical keyboards for their typing needs.
So, you need to be in touch with what your needs are and if mechanical keyboards are too much for you price-wise, choose from the membrane keyboards I listed above.
Are Mechanical Keyboards Worth It?
Okay on to the most important question, are mechanical keyboards worth it?
Well, yes, they are. To someone who types a lot, mechanical keyboards will reduce fatigue while typing and the tactile feedback that they provide is hard to match by any membrane keyboard.
Now, what about gaming? Are mechanical keyboards worth it for gaming?
I don't want you to see mechanical keyboards as gaming keyboards. Mechanical keyboards are an excellent upgrade over your old membrane keyboards that you can also use for gaming.
See, as much as I enjoy, pc hardware for what it is, I also need to be the one who tells you that manufacturers do tend to use the hype around gaming to charge a premium price point.
You need to be very technical with your purchase when it comes to pc hardware. A keyboard that has the right switch, the right price, and excellent user reviews is the one you should get rather than the latest greatest or the one that is flashing RGB like a flag.
Of course, there are times when these features will overlap on keyboards that are manufactured by a company that has been creating mechanical keyboards for a while.
But I want to tell you that, there can be instances where your hard-earned money won't go to the right place if you are not cautious.
That is precisely why I am here for. Either choose from the options that I have listed above or just shoot me an email to know my feelings on a tech product you are eying. Here is how you can do that.
FAQs
So, I hope I did justice to the article on re membrane keyboards good for gaming and the context around it.
I wish to write so much more on the topic but I don't want to make the topic too long and make it boring for you.
So, let me just address a few more FAQs that I know will add to the context of the article in a helpful way.
How Long Do Membrane Keyboards last?
Mechanical keyboards in general last much more than membrane keyboards. Most membrane keyboards will have an operational lifespan of 5 million presses. Mechanical keyboards on the other hand are tested to last a lifespan of 30 to 70 million presses.
Are Membrane Keyboards Bad?
Not at all. If your needs are not specific or extravagant and you are looking for something simple that does the job you can find many good membrane keyboard options. Mechanical keyboards are the next best upgrade when you feel membrane keyboards aren't cutting it for your use case.
Alright guys, with that we are the end of this article. I hope you thoroughly enjoyed visiting Yantraas and reading whatever you read here.
Nothing would make me happier than making this relationship that we have going on in here permanent.
So, don't leave without subscribing to the blog so that I can shower you with knowledge bits that I know for a fact will enhance your relationship with technology.
Take great care of yourselves and I will see you around 😊