In the sea of monitors where the core parameters that rule the arena are panels, resolution, and size, a curved monitor was introduced to infuse an aspect of immersion.
A curved monitor offers immersive visuals and the extra real estate that you get from an ultra-wide 21:9 display comes in really handy in productivity and video editing workflow.
With that said, when it comes to curved monitors they are manufactured with a very particular aspect in mind. It would be wrong to say they are absolutely necessary and at the same one cannot overlook the benefits that they offer especially in productivity and video editing tasks.
So, let's tackle the first very obvious question head-on.
Are Curved Monitors Good for Video Editing?
For video editing, the most important thing is an optimized workflow. Having multiple monitors helps in that but if want an undivided workspace that isn't divided by monitor borders and unmatching picture quality, getting a single 21:9 ultrawide curved monitor for video editing can be a very good choice.
Here are the most important aspects of video editing,
In program (example, premiere pro) switching between windows/screens must be quick.
Raw footage organization must be convenient.
The color reproduction capacity of the monitor must be excellent, no compromises here please.
The general real estate must be good (more the merrier).
Monitor must be responsive and picture quality must be sharp.
You need to be able to edit your videos fast and you need to create a workflow that has the least amount of resistance.
Right from importing your clips, to seeing the raw footage in the source monitor, editing freely, and finally exporting, the switching between tasks must be smooth and expansive.
In that direction having multiple monitors or like a single ultrawide curved monitor can work wonders.
I understand there are a lot of ifs and buts to the topic and in order to provide some comprehension to them, let's take the topic deeper.
---
Here are a few more articles that I think you will find worth your time,
---
Best Curved Monitors for Video Editing
So, if you have latched your attention to pick a curved monitor for video editing, here are my recommendations for the best curved monitors for video editing and content creation.
Product
ASUS TUF Gaming VG34VQL1B
LG 34WN80C-B UltraWide Monitor
Acer Nitro XZ342CK Pbmiiphx
Philips 343E2E Frameless IPS Monitor
Sceptre Curved Gaming LED Monitor
Preview
Product
ASUS TUF Gaming VG34VQL1B
Preview
Product
LG 34WN80C-B UltraWide Monitor
Preview
Product
Acer Nitro XZ342CK Pbmiiphx
Preview
Product
Philips 343E2E Frameless IPS Monitor
Preview
Also, for people, who are looking for a monitor for just video editing, content creation, productivity and don't want the immersive experience that usually goes well with tasks like gaming, entertainment, and consumption, going with a simple ultra-wide can be a very wise decision.
Here are the best ultra-wide flat monitors for video editing and content creation.
Product
LG 34WN780-B UltraWide Monitor
LG Full HD IPS UltraWide Monitor
Preview
Product
LG 34WN780-B UltraWide Monitor
Preview
Product
LG Full HD IPS UltraWide Monitor
Preview
Preview
Preview
I edit a lot of videos personally for Yantraas as well as some of my other channels and I use premiere pro to go about my editing business.
And let me tell you, the space is never enough.
Don't get me wrong, I started editing on a 1366 X 768 laptop screen of my Dell Inspiron N5110. You if push comes to shove you can edit on any screen size but it takes a hit on your productivity and your workflow without a doubt.
You need a monitor with a lot of real estate or better yet if you can and if you are comfortable you can even look into setting up multiple monitors.
Different people love different types of setups for different reasons.
Some prefer having multiple monitors either for organization needs or for having different screens operating separately (program monitor, source monitor, and editing timeline).
And a big domain of people doesn't like the clutter multiple monitor setup brings and the fact that their workspace is divided by monitor borders.
This is where ultra-wides and more specifically ultrawide curved monitors come into play.
The next very logical question that must come forth is it what should you pick a flat ultrawide monitor or a curved ultrawide monitor?
It's a difficult question but I will make it easy for you.
You see all video editing systems are powerful systems loaded with advanced hardware and graphic card.
So, if you intend to use a monitor for more than just video editing like gaming, entertainment, watching movies, etc, get a curved ultrawide monitor. It's as simple as that.
However, if you are picking a monitor for work or something that you will pick exclusively for video editing, productivity, photo editing, and content creation, get a simple ultrawide.
For this reason, I have listed out the best of both ultra-wides and curved ultra-wides from which you can take your pick here.
Curved Vs Flat Monitors: Which are better for video editing?
Now, let's objectively look at the fundamental differences between a flat monitor and a curved monitor.
I will relay my personal experience of working with both and in which situation either of them can be beneficial or pose a challenge.
Curved monitors are relatively new and for that reason attract a lot of skepticism. Skepticism is very important in this gadget-dominated world where it feels every company wants to shove a product on your face.
But when it comes to curved monitors the skepticism is toning down because many people from different work are realizing the benefits it offers.
Looking at the number at which curved monitors are entering the market space and getting picked up, one can safely say curved monitors are finding applications spanning from gaming to work and general entertainment.
So, how exactly are curved monitors different from flat monitors keeping the context of video editing in the background.
Curved Monitors are More Immersive than Flat Monitors.
Now, the first argument that anyone in favor of curved monitors puts forth is that they are very immersive.
So, what does that mean? While I can use a lot of fancy languages here, but simply put how effective a product (monitor here) is in garnering your attention and making you forget that you are staring at a screen.
It needs to make you forget your reality and immerse you in an artificial one is what is meant by immersion.
Curved monitors expand on peripheral vision and take advantage of 3D space thus emulating the real world and creating a quality of immersion.
Curved Monitor Reduce Distortion
Another big up for curved monitors over flat monitors is reduced distortion. When the objective analysis is done between the two varieties of monitors distortion is almost always associated with flat monitors.
Here is the reason for that. The distortion in monitors comes down to the physics of projection of light. In simple words, on a flat-screen an image is projected with straight lines that go to the viewer and past their sides.
With curved screens, all light can be aimed directly at the viewer taking advantage of the curved shape thus resulting in less or no distortion.
Curved Monitors Are Gentle on Your Eyes
The same factor that results in less distortion with curved monitors is also responsible for making the curved monitors much more comfortable for your eyes.
Because of the curvature, your eyes are able to take a lot more in at once thereby reducing the strain.
With flat screens depending on the size eyestrain may increase if the screen exceeds your eye's natural field of view.
The world that we live in surrounds us in 3D and thus our eyes are designed to perceive all at once. So, a curved monitor emulates to a certain degree an ecosystem that we are so used to thus reducing the strain.
Curved Monitors Offer A Wider Field of View
In the general populace, the second benefit that more people are aware of is a curved monitor's capacity to offer a wider field of view.
This image is perfect to explain what I mean by a wider field of view.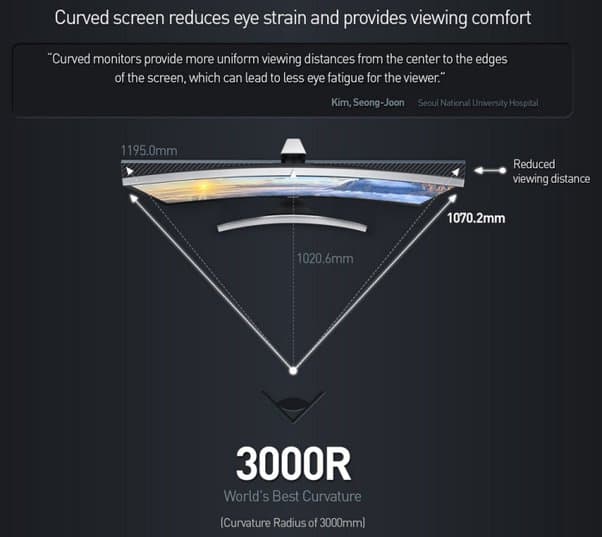 In simple words, a wider field of view means with less effort you will be able to take in more. You will be able to perceive how the picture is instead of your eyes working overtime to accumulate and perceive the projected image as a whole.
FAQs Regarding Curved Monitors
Curved monitors are a topic unto themselves. And with this article on are curved monitors good for video editing we have just touched the tip of an iceberg.
While I will keep creating articles around them, I think it wise to answer some closely related FAQs that I can answer and which will add to the comprehension that you have just received.
But keep an eye out and subscribe to the blog as I will continue to cover curved monitors in upcoming articles.
Are curved monitors good for work?
When it comes to office work the eye strain and fatigue can be reduced to a great extent using a large field of view and better viewing angles of a curved monitor. Secondly, more real estate means multitasking and improved productivity. So overall, curved monitors are excellent for office work
Are curved monitors good for gaming?
Curved monitors are designed to create an immersive experience. Better viewing angles ensure that all pixel projections angle towards you and wide field of view as per some studies aid in reducing eye strain over long competitive gaming sessions. So in essence, curved monitors are relatively good for gaming.
Are curved monitors good for programming?
If all you want to do is code getting a curved monitor exclusively for programming isn't the right way. You are better off investing in a bigger monitor with better resolution. However, if you are going beyond 40 inches in size or want a monitor on which you can game, watch movies, etc, in addition to coding getting a curved monitor makes a lot of sense.
Final Thoughts
I hope I was able to provide the necessary comprehension around the topic are curved monitors good for video editing.
You see because curved monitors are relatively new and serve a very specific purpose, confusion and skepticism around picking them are apt and in many ways important.
It is true that in many use cases, curved monitors aren't required and you may be better of either just getting a bigger monitor or using a multiple monitor setup.
But with that said, the obvious benefits like the wider field of view, better viewing angles, increased comfort to eyes over long computer sessions offered by a curved monitor can't be ignored.
For tasks such as video editing, curved ultrawides definitely hold special appeal. In addition to having a lot of real estate, the monitor will be gentle to your eyes over long editing sessions.
But that can be done using a simple flat ultrawide too and yes, if editing is all that you want from your monitor getting a flat ultrawide makes much more sense over curved monitors given the fact that they are much more expensive.
With that said, if you want a monitor over which you can game, watch movies, and on which you can edit too, curved monitors are a very worthy choice.
If you have any queries, comments, doubts or feedback do let me know in the comments section below.
Do subscribe to the blog and my accompanying YouTube channel so that I can share informative tech articles like these directly with you.
Take care of yourselves and I will see you in the next one!
Tada!